News
McCarthy Blasts Twitter After Banning Greene and for 'Decisions to Silence Americans'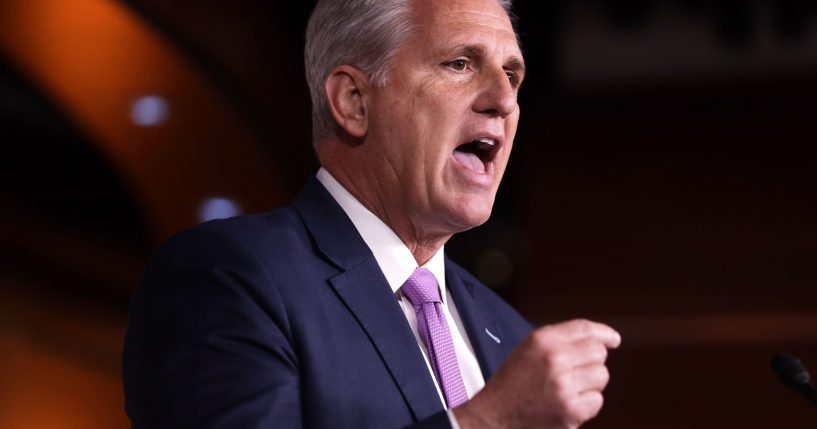 House Minority Leader Kevin McCarthy (R-Calif.) accused Twitter of attempting to "silence Americans" after the social media platform permanently suspended Rep. Majorie Taylor Greene's (R-Ga.) account.
McCarthy issued a statement, arguing, "Diversity of opinion is the lifeblood of our democracy. And yet that fundamental American value is under assault by Big Tech—entities that have amassed more power and more control over more speech than any other institution in history.
He added, "Their recent decisions to silence Americans — including a sitting member of Congress and renowned physicians — who share views different from the political and media elite have real world costs."
Advertisement - story continues below
According to McCarthy, it is "clear any speech that does not fit Big Tech's orthodoxy gets muzzled."
He continued, "America is poorer for that conduct. Congressional Democrats, despite having a majority in both Houses of Congress, have shown zero interest in passing laws that will promote a diversity of views."
McCarthy explained he has directed "relevant committees and task forces to continue their work in getting answers – voluntarily or through rigorous congressional oversight — from Twitter and other Big Tech companies surrounding their decision to silence certain Americans and to hold these companies accountable."
Concluding his statement, the House minority leader said, "The American experiment is dependent on the freedom and ability of Americans to express themselves, which Republicans are fighting to preserve."
Advertisement - story continues below
Twitter permanently suspended Greene's account on Sunday, as IJR reported.
On Monday, Greene announced she had been temporarily banned from Facebook.
"Facebook has joined Twitter in censoring me. This is beyond censorship of speech. I'm an elected Member of Congress representing over 700,000 US tax paying citizens and I represent their voices, values, defend their freedoms, and protect the Constitution," Greene said in a statement.
She added, "When Big Tech decides what political speech of elected Members is accepted and what's not then they are working against our government and against the interest of our people."
Truth and Accuracy
We are committed to truth and accuracy in all of our journalism. Read our editorial standards.
Comment Down Below
Conversation