McCarthy Confirms He Rented a Room From GOP Pollster Frank Luntz After Tucker Carlson Attack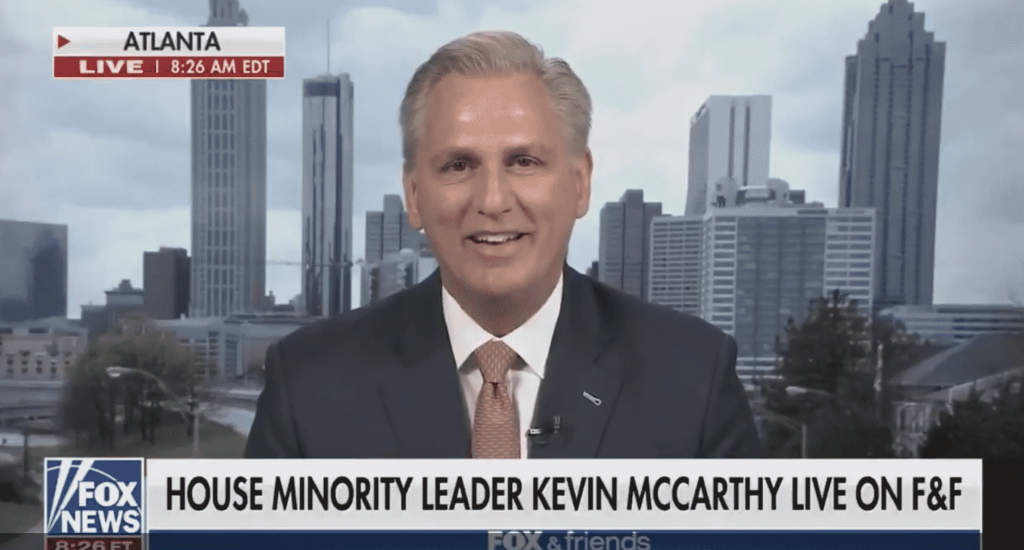 House Minority Leader Kevin McCarthy (R-Calif.) said he rented a room from GOP pollster Frank Luntz for a few months after Fox News' Tucker Carlson reported the information.
"I didn't know how this was controversial. Frank has been a friend of mine for more than 30 years. I met him with Newt Gingrich back when they were working on the Contract with America," McCarthy said during an appearance on "Fox and Friends" Tuesday.
He added, "As the Democrats took over, they started changing the House around and so, yes, I've rented a room from Frank for a couple of months but don't worry, I'm back to — going back to where I normally am, on my couch in my office. But, yes, we pay fair market rate."
McCarthy suggested Carlson and Luntz "must dislike each other."
Watch his comments below:
Kevin McCarthy confirms that he was living with @FrankLuntz pic.twitter.com/ijR3J7YII5

— Aaron Rupar (@atrupar) May 4, 2021
Fox News' Steve Doocy pointed out Carlson was "questioning whether it was conflict that the top Republican in the House had a roommate situation with a top corporate consultant and lobbyist."
McCarthy replied, "Well, Frank's not a lobbyist. Frank's a friend I knew 15 years before I ever got in and I just rented a room for a few months there. So I don't see that there's any problem along that line."
He added, "But I'd like to see everybody stay together. Let's work to make sure we put people back to work, back to health, back to school. Stop this woke movement that's going on."
Carlson slammed McCarthy after receiving the tip, saying, "The top Republican in the House lives with a Google lobbyist? Come on. Even by the sleazy and corrupt standards of politics in Washington, that didn't seem possible. In fact, it sounded like a joke."
According to Carlson, the network checked with McCarthy's spokeswoman to confirm the report.
She initially told Fox News, "When he's in Washington, Kevin McCarthy rents hotel rooms, or sleeps in his office in the Capitol. He certainly isn't living with Frank Luntz."
A few hours later his spokeswoman said, "Following up on our conversation from earlier today. Because of the pandemic, McCarthy has rented a room in Washington at a fair market price from Frank."