McEnany on Trump Attending Biden's Inauguration: 'I Think the President Will Attend His Own Inauguration'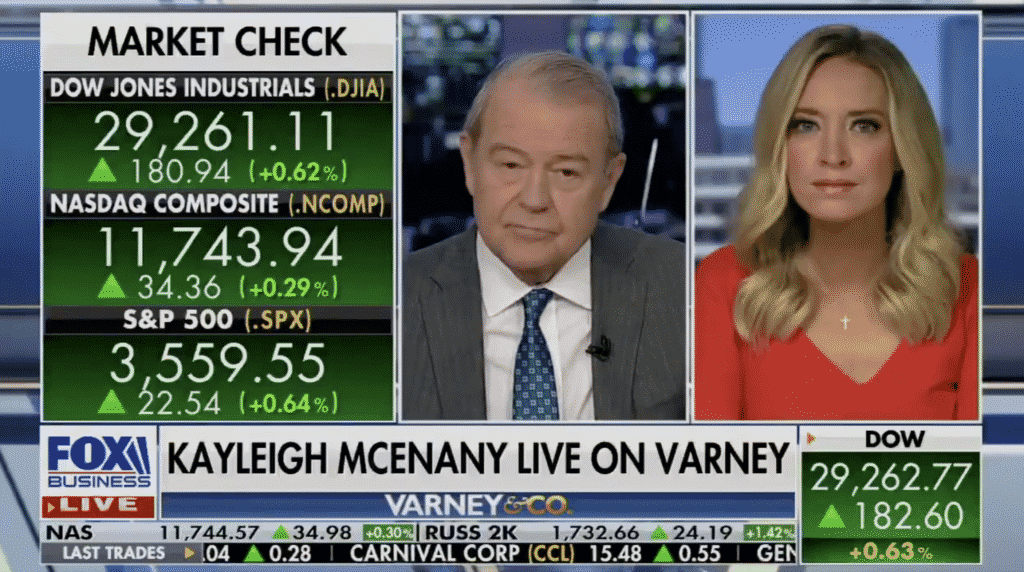 White House press secretary Kayleigh McEnany is suggesting President Donald Trump will not be attending President-elect Joe Biden's inauguration ceremony because he will busy attending his own.
During an appearance on Fox News, McEnany was asked if she can confidently say Trump will attend Biden's inauguration ceremony.
"That's many steps away here. We're talking January and President Trump believes he will be President Trump, have a second term, and litigation is the first step, many steps away from that," McEnany said.
Host Stuart Varney pressed McEnany on the subject and argued it would "look pretty bad" if Trump did not attend Biden's inauguration ceremony.
"I think the president will attend his own inauguration. He would have to be there, in fact," McEnany replied.
Watch her remarks below:
WH Press Sec. Kayleigh McEnany, appearing on Fox Business as Trump Campaign Adviser, on whether Trump will attend President-elect Biden's inauguration ceremony:

"I think the president will attend his own inauguration." pic.twitter.com/uHTDneIiXx

— The Recount (@therecount) November 13, 2020
The president has repeatedly claimed, without evidence, widespread voter fraud was the cause of his defeat.
Pennsylvania officials asked a federal judge to toss out a Trump campaign lawsuit seeking to keep the state from confirming its results, as IJR previously reported.
"This Court should see this lawsuit for what it is: a transparent and premeditated attack on our electoral system that broadly seeks to disenfranchise all Pennsylvania voters who legally cast ballots in this election," wrote four counties in a court filing.
The officials are adamant they "administered a proper, fair, and secure election."
Trump's campaign has filed lawsuits in Pennsylvania, Michigan, Arizona, and Georgia since Election Day, as IJR previously reported.
Former President Barack Obama criticized Republicans for failing to call Trump out on his claims of voter fraud.
"I'm more troubled by the fact that other Republican officials who clearly know better are going along with this, are humoring him in this fashion," Obama said.
Biden's Arizon win on Thursday again secured his victory with a total of 290 electoral votes.