News
Meadows Calls It 'Fake News' That Trump Had COVID During Debate With Biden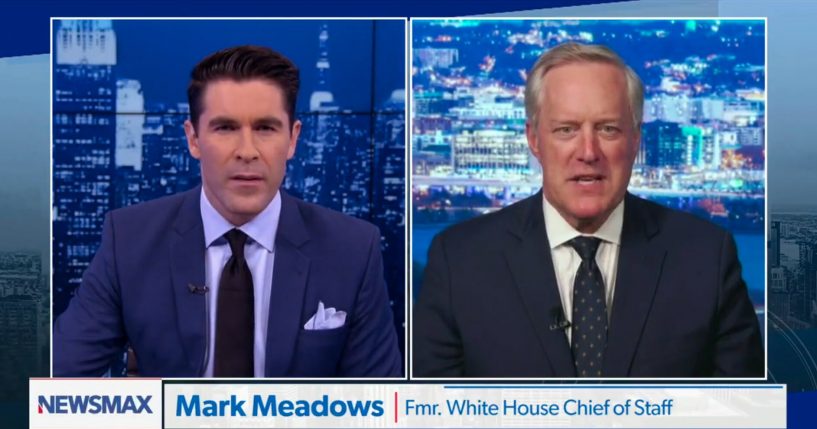 Former White House Chief of Staff Mark Meadows is denying that his boss contracted COVID-19 prior to the first presidential debate with then-candidate Joe Biden.
In his new book, Meadows writes that former President Donald Trump received a positive coronavirus test before the debate with Biden. However, he added that Trump took another test which came back negative, and they believed the first result was a false positive.
Trump called the report that he had the virus during the debate "fake news."
Advertisement - story continues below
During an appearance on Newsmax on Wednesday night, Meadows was asked about Trump's denial that he had the coronavirus.
"Well, the president's right. It's fake news," Meadows began. "If you actually read the book, the context of it, that story outlined a false positive."
He continued, "Literally, he had a test, had two other tests after that, showed that he didn't have Covid during the debate. And yet, you know the way that the media wants to spin it is certainly to be as negative about Donald Trump as they possibly can while giving Joe Biden a pass."
Watch the video below:
Advertisement - story continues below
Newsmax anchor Rob Schmitt: "I believe the president said it's fake news. What's the story here?"

Mark Meadows: "Well, the president's right, it's fake news." pic.twitter.com/p2zkaT5Vw0

— Justin Baragona (@justinbaragona) December 2, 2021
Host Rob Schmitt noted that the "timing is interesting though, you have to admit" as he pointed out that Trump was hospitalized with the virus less than a week after the first positive test.
Meadows did not directly address the timeline of Trump's trip to the hospital and instead said there are a lot of stories in his book that talk about the "miraculous work" that the former president did.
Finally, he reiterated his denial that Trump had actually contracted the virus prior to the debate.
Biden was asked on Wednesday if he thought Trump put him at risk during the event. He responded, "I don't think about the former president."
Truth and Accuracy
We are committed to truth and accuracy in all of our journalism. Read our editorial standards.
Comment Down Below
Conversation