News
Meghan McCain Blasts Tucker Carlson for Using Her Father's Name in Crenshaw Insult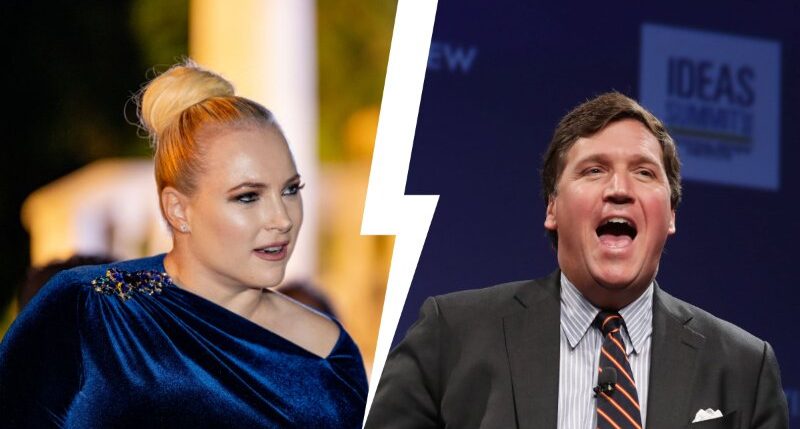 Meghan McCain went after Fox News host Tucker Carlson after he used her father's name in an insult.
Carlson said during his show Monday night, "You know the more I think about it, it takes a lot of gall for eyepatch McCain to attack moms who are worried about baby formula as pro-Russia."
McCain responded, "This is just trash. That being said I'm sure [Dan Crenshaw TX] doesn't mind the comparison."
Advertisement - story continues below
This is just trash.

That being said I'm sure @DanCrenshawTX doesn't mind the comparison. https://t.co/JpzUZBuC93

— Meghan McCain (@MeghanMcCain) May 17, 2022
The United States is currently facing a shortage of baby formula.
Crenshaw previously criticized Republicans over their lack of support for sending aid to Ukraine.
"One of the reasons I say I'm cynical about your comment about –more cynical than you are about — look the wing of the party that's just completely against any kind of aid, you know, and the media calling them pro Russia," Crenshaw said during an episode of his podcast "Hold These Truths."
Advertisement - story continues below
He added, "I think a lot of them are not pro Russia."
Crenshaw explained, "We have colleagues who I think earnestly believe, I won't name names, but they earnestly, cause I've seen them say this, earnestly believe that we're gonna start a war with Russia if we vote on aid to Ukraine. I think they're dead wrong. I mean, it's completely wrong. Um, it hasn't happened yet. It won't happen soon."
The Republican argued "Russia has no bandwidth to just start a war with us though, so they're wrong, but maybe they're making that argument in earnest. But the problem is, is when you start making other arguments, like, like, well, the Ukrainians are just neo-Nazis and we're sending weapons to neo-Nazis or, or look at these Biolabs."
He continued, "Of course, Russia had to invade because the U.S. was apparently funding, Biolab weapons in Ukraine."
Concluding his remarks, Crenshaw said, "The Biolabs thing is completely untrue. That's part of a longstanding program, right? That, that is actually meant to keep an eye on these things."
Advertisement - story continues below
Additionally, Crenshaw recently sparred with Rep. Marjorie Taylor Greene (R-Ga.) over an Ukrainian aid bill, as IJR reported.
Responding to criticism over his support of the bill, Crenshaw said, "Yeah, because investing in the destruction of our adversary's military, without losing a single American troop, strikes me as a good idea. You should feel the same."
Greene replied, "So you think we are funding a proxy war with Russia? You speak as if Ukrainian lives should be thrown away, as if they have no value. Just used and thrown away."
She added, "For your proxy war? How does that help Americans? How does any of this help?"
Advertisement - story continues below
He asked, "Still going after that slot on Russia Today huh?"
Truth and Accuracy
We are committed to truth and accuracy in all of our journalism. Read our editorial standards.
Comment Down Below
Conversation