News
Milley Took Steps To Prevent Trump From Launching a Nuclear Strike After Jan. 6: Report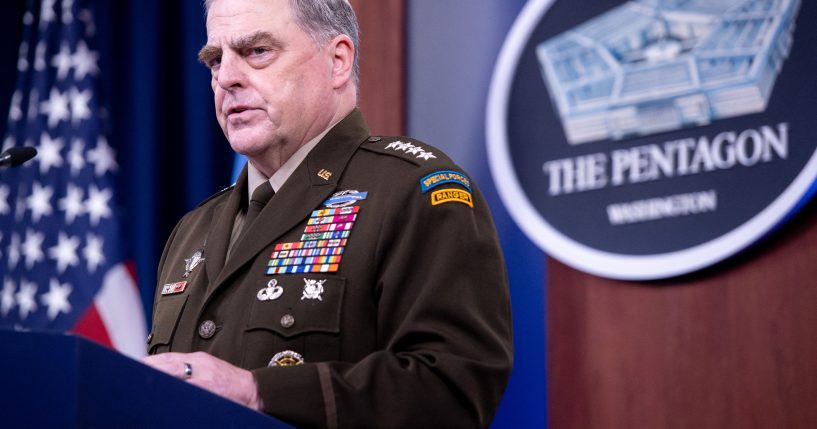 Chairman of the Joint Chiefs of Staff Gen. Mark Milley was reportedly so concerned about then-President Donald Trump's mental state after the U.S. Capitol riot on January 6 that he took steps to ensure the commander-in-chief could not launch a nuclear strike.
The new account is detailed in the forthcoming book "Peril" written by Bob Woodward and Robert Costa of The Washington Post, and was first reported by CNN.
According to the book, Milley "single-handedly took top-secret action to limit Trump from potentially ordering a dangerous military strike or launching nuclear weapons."
Advertisement - story continues below
Milley was reportedly "deeply shaken by the assault, 'was certain that Trump had gone into a serious mental decline in the aftermath of the election, with Trump now all but manic, screaming at officials and constructing his own alternate reality about endless election conspiracies."
The top general told aides that he was afraid Trump would "go rogue," adding, "You never know what a president's trigger point is."
He reportedly told aides not to take orders from anyone unless he was involved.
The authors also say that Milley "felt no absolute certainty that the military could control or trust Trump and believed it was his job as the senior military officer to think the unthinkable and take any and all necessary precautions."
Advertisement - story continues below
Top national security officials were also apparently concerned that Trump would try to provoke a "conflict domestically or abroad to distract from his crushing election loss."
An excerpt of a separate book published earlier this year, "I Alone Can Fix It: Donald J. Trump's Catastrophic Final Year" by Carol Leonnig and Philip Rucker, reporters for The Washington Post, says that Milley was concerned Trump would attempt a coup after the insurrection.
"This is a Reichstag moment," Milley reportedly told aides, adding, "The gospel of the Führer."
Milley also reportedly told his aides of a potential coup attempt, "They may try, but they're not going to f—ing succeed."
"We're going to have a peaceful transfer of power. We're going to land this plane safely. This is America. It's strong. The institutions are bending, but it won't break," he added.
Truth and Accuracy
We are committed to truth and accuracy in all of our journalism. Read our editorial standards.
Comment Down Below
Conversation