News
Milley Refuses To Comment on Reports He Feared Trump Would Attempt a Coup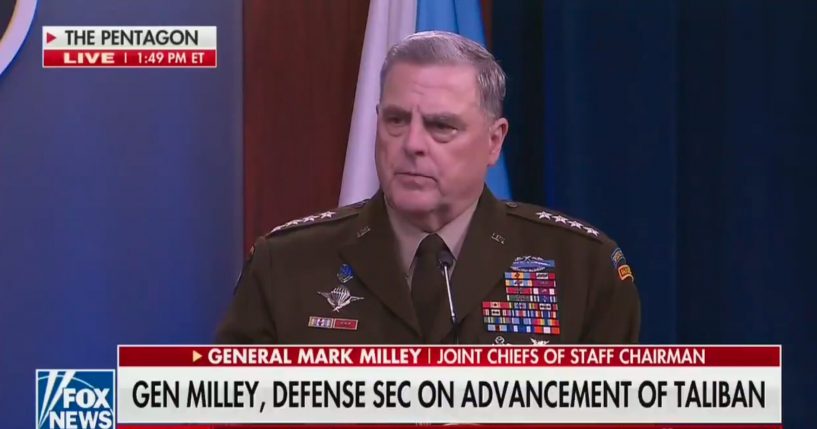 The Chairman of the Joint Chiefs of Staff Gen. Mark Milley is not commenting on reports that he was concerned former President Donald Trump would attempt a coup after his election loss.
During a press conference on Wednesday, Milley said, "I'm not going to comment on any of the books. But I want you to know, and I want everyone to know, I want America to know, that the United States Military is an apolitical institution. We were then. We are now. And our oath is to the Constitution, not to any individual."
"The military did not and will not and should not ever get involved in domestic politics. We don't arbitrate elections. That's the job of the judiciary and the legislature, and the American people. It is not the job of the U.S. Military. We stayed out of politics," he added.
Advertisement - story continues below
Watch the video below:
An excerpt of the new book "I Alone Can Fix It: Donald J. Trump's Catastrophic Final Year" by Carol Leonnig and Philip Rucker, reporters for The Washington Post, says that Milley was concerned Trump would attempt a coup after his election loss.
"This is a Reichstag moment," Milley reportedly told aides, adding, "The gospel of the Führer."
Advertisement - story continues below
Milley also reportedly told his aides of a potential coup attempt, "They may try, but they're not going to f—ing succeed."
"We're going to have a peaceful transfer of power. We're going to land this plane safely. This is America. It's strong. The institutions are bending, but it won't break," he added.
Trump reacted to the excerpt by bashing Milley and asserting that "one of the last people I would want to do it with is General Mark Milley."
In a separate statement, he claimed Milley should be "court-martialed and tried."
Truth and Accuracy
We are committed to truth and accuracy in all of our journalism. Read our editorial standards.
Comment Down Below
Conversation