News
MSNBC Host Insists the US Is 'In the Midst of a Rolling Coup'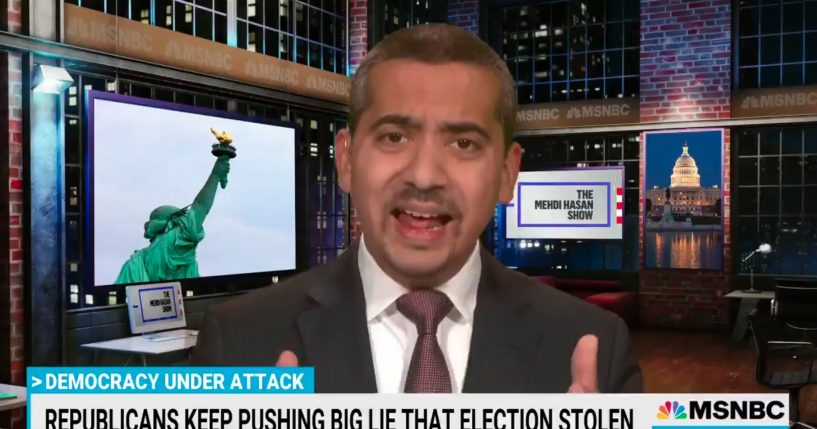 MSNBC's Mehdi Hasan says the United States is still in the midst of a "coup" as he insists Republicans would try to block the certification of a Democratic presidential victory in 2024.
On Sunday, Hasan said, "Nine months after the storming of the United States Capitol, the attempt to overturn the results of the 2020 election is still underway. We are in the midst of a rolling coup."
"Almost everyday, Republicans pass more voter suppression laws. They purge more and more election officials and they entrench the 'big lie' that the election was stolen," he continued.
Advertisement - story continues below
He went on to play several videos of Republican lawmakers and former President Donald Trump suggesting that there was widespread fraud in the 2020 election and that there could be fraud in upcoming elections.
"It's the words of GOP Congressman Steve Scalise there that are the most chilling to me. He's carefully foreshadowing what the GOP position is likely to be come 2024. Not just election fraud, but making sure that Republican state legislatures will have the power to pick each slate of presidential electors, never mind voters and their pesky, you know, votes in a democracy. The Republicans want to unilaterally decide who runs the country. It's all about election subversion now," Hasan continued.
Finally, he said, "Mark my words, if Donald Trump is the 2024 Republican presidential nominee and Republicans control the House of Representatives, they will not certify a Democratic victory in 2024.
Watch the video below:
Advertisement - story continues below
"We are in the midst of a rolling coup."

Please do watch and share the opening of my @MSNBC monologue last night. It's important.pic.twitter.com/dgGwEY6vFg

— Mehdi Hasan (@mehdirhasan) October 11, 2021
On "Fox News Sunday," host Chris Wallace asked House Minority Whip Steve Scalise (R-La.), "Clearly, there were irregularities in the last election, there are irregularities in all elections, but I want to ask you a specific question: Do you think the 2020 election was stolen from Donald Trump?"
"I've been very clear from the beginning if you look at a number of states they didn't follow their state-passed laws that govern the election for president. That is what the United States Constitution says, they don't say that the states determine what the rules are, they say the state legislatures determine the rules," Scalise responded.
He went on to decry, as he said, states holding elections that violated the rules created by state legislatures during the last election.
Finally, Wallace said, "There are people out there, there was a rally for President Trump yesterday, and a number of people said Joe Biden is not my president, Donald Trump is my president. Last time I promise, do you think the election was stolen or not? I understand you think there were irregularities and things that need to be fixed. Do you think the election was stolen?"
Advertisement - story continues below
"It's not just irregularities. It's states that did not follow the laws set which the Constitution says they're supposed to follow," Scalise said.
Former President Donald Trump has repeatedly claimed that the 2020 election was "stolen" through widespread fraud. However, several recounts and legal challenges did not alter the results of the election or find evidence of widespread fraud.
Truth and Accuracy
We are committed to truth and accuracy in all of our journalism. Read our editorial standards.
Comment Down Below
Conversation