News
National Security Adviser Reveals What Biden Said To Ukraine's Zelensky Ahead of Putin Summit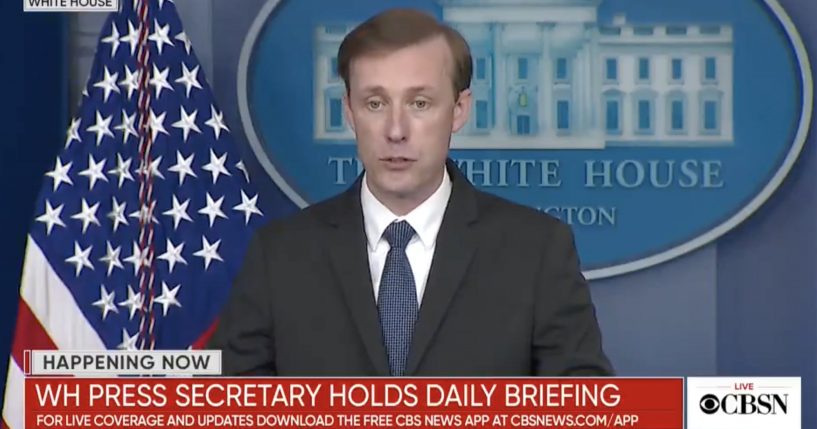 White House national security adviser Jake Sullivan is sharing what President Joe Biden said to Ukrainian President Volodymyr Zelensky ahead of his meeting with Russian President Vladimir Putin.
"I have come into this briefing room from the Oval Office where President Biden was on the phone with President Zelensky of Ukraine. This is a call that they had been planning to make in advance of President Biden going to Europe, meeting with President Putin," Sullivan said during a White House press briefing on Monday.
He added, "They had the opportunity to talk at some length about all of the issues in the U.S.-Ukraine relationship. And President Biden was able to tell President Zelensky that he will stand up firmly for Ukraine's sovereignty, territorial integrity and its aspirations as we go forward."
Advertisement - story continues below
Sullivan also revealed Biden told Zelensky he "looks forward to welcoming him to the White House… this summer after he returns from Europe."
Watch part of the press briefing below:
National security adviser Jake Sullivan tells @nancycordes that President Biden spoke with Ukrainian President Volodymyr Zelensky on Monday, and wants to welcome him to the White House this summer.

Biden said he would "stand up firmly for Ukraine's sovereignty," Sullivan says pic.twitter.com/eekYMkNBoC

— CBS News (@CBSNews) June 7, 2021
White House Press Secretary Jen Psaki announced in a statement in May, Biden will meet with Putin on June 16. U.S. Secretary of State Antony Blinken said during an interview with Axios Biden will tell Putin "directly and clearly what he can expect from the United States if aggressive, reckless actions toward us continue."
Advertisement - story continues below
He added, "I can't tell you whether I'm optimistic or not about the results. I don't think we're going to know after one meeting, but we'll have some indications … We're prepared either way."
Sullivan explained why it is important for Biden to meet with Putin in person.
"There is never any substitute for leader to leader engagement, particularly for complex relationships," Sullivan said.
He continued, "But with Putin, this is exponentially the case. He has a highly personalized style of decision-making. And so it is important for President Biden to be able to sit down with him face to face, to be clear about where we are, to understand where he is, to try to manage our differences, and to identify those areas where we can work in America's interests to make progress."
Truth and Accuracy
We are committed to truth and accuracy in all of our journalism. Read our editorial standards.
Comment Down Below
Conversation