News
'Scared to Speak Up': NBA Star Criticizes Nike for Staying Silent on Injustice in China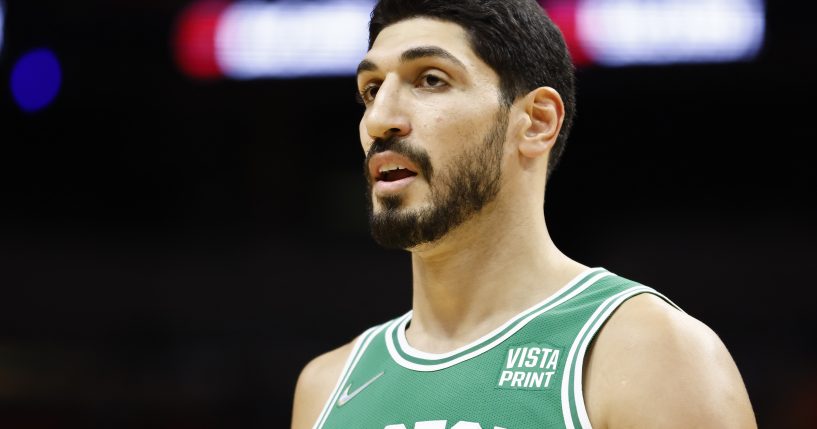 Center for the Boston Celtics, Enes Kanter, is speaking out against what he believes is Nike's failure to fight against injustices in China.
"Nike remains vocal about injustice here in America, but when it comes to China, Nike remains silent," Kanter said in a video posted to Twitter on Monday.
He added, "You do not address police brutality in China, you do not speak about discrimination against the LGBTQ community, you do not say a word about the oppression of minorities in China, you are scared to speak up."
Advertisement - story continues below
Kanter went on to ask, "Who makes your shoes in China? Do you even know?"
He pointed out there are "so many forced labor factories in China," adding, "For instance, Uyghur forced labor, it is modern day slavery, and it is happening right now in China."
Kanter continued, "Millions of Uyghurs are currently detained, sold and assigned to work at forced labor camps, prisons and factories across the country. They are under constant surveillance, with long working hours and poor living conditions."
The NBA star argued Nike does not have proof that the company does not allow any forced labor in their supply chains.
Advertisement - story continues below
Watch the video below:
Dear @Nike

Stop the modern day SLAVERY, now!!!#HypocriteNike#EndUyghurForcedLabor pic.twitter.com/tvX2k3wE4X

— Enes Kanter (@EnesKanter) October 25, 2021
"Don't forget, every time you put those shoes on your feet, or you put that t-shirt on your back, there are so many tears and so much oppression and so much blood behind it all," Kanter explained.
Sending a message to the owner of Nike, he said, "How about I book plane tickets for us. Let's fly to China together. We can try to visit these slave labor camps and you can see with your own eyes."
He continued, "LeBron James and Michael Jordan, you guys are welcome to come too."
Advertisement - story continues below
Calling on Nike to "stop the hypocrisy," Kanter concluded his video, "Stop the modern day slavery now."
Nike previously released a statement, saying the company "is committed to ethical and responsible manufacturing and we uphold international labor standards."
The statement continues, "We are concerned about reports of forced labor in, and connected to, the Xinjiang Uyghur Autonomous Region (XUAR). Nike does not source products from the XUAR and we have confirmed with our contract suppliers that they are not using textiles or spun yarn from the region."
Reuters noted last week several countries continued to pressure China at the United Nations over allegations of human rights abuses.
Advertisement - story continues below
Forty three countries reportedly expressed concern about an increase in "reports of widespread and systematic human rights violations."
China's U.N. ambassador, Zhang Jun, said in a statement, "To the U.S. and a few other countries: Your desperate attempts to cover up your own terrible human rights record will not work."
He added, "No matter how many times repeated, lies are still lies. You are using human rights as a pretext for political maneuvering to provoke confrontation."
Truth and Accuracy
We are committed to truth and accuracy in all of our journalism. Read our editorial standards.
Comment Down Below
Conversation