News
NFL Sideline Reporter Shares Why She Is Leaving NBC Sports: 'I've Got To Start Giving Back'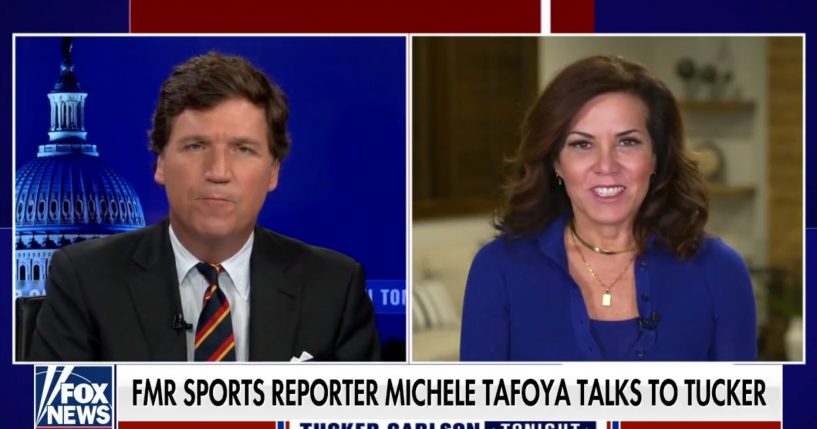 Michele Tafoya, an NFL sideline reporter for NBC Sports, shared why she is leaving the network, saying she is "going to choose to say what I believe."
During an appearance on Fox News, host Tucker Carlson congratulated Tafoya on the new chapter and suggested her decision is "interesting."
When asked why she made it, Tafoya responded, "This has been on my mind. I have been waking up every day with a palpable pull at my gut, that my side, my view, my middle ground, kind of moderate viewpoint is not being represented to the rest of the world, I didn't feel."
Advertisement - story continues below
She added, "And so, rather than just banging it out on Twitter or Instagram every day, I thought, "I've got to do something. I have benefited greatly from the American dream and I feel like for the sake of my kids, and because I so love this country, I've got to start giving back."
Carlson mentioned Tafoya's recent appearance on "The View" where she questioned why there is an emphasis on skin color.
The Fox News host suggested it was a moderate and "sensible" thing to say.
Tafoya said a person like Whoopi Goldberg would not have had "that role 50 years ago," adding, "She has that now."
Advertisement - story continues below
Watch the video below:
Carlson then asked Tafoya why she defended her position.
Advertisement - story continues below
"Because I don't care if I'm attacked. I really am not afraid of that. And I guess I feel like so many people now are afraid, and I'm not," Tafoya explained.
She told Carlson the most terrifying thing to her is "people are afraid to talk."
Tafoya continued, "These are words coming out of our mouths. Yeah, we could probably hurt people with our words, I acknowledge that. But I get to choose my reaction to everybody's words. And everybody else gets to choose their reaction to my words."
The NFL reporter stressed that she is "going to choose to say what I believe and what I feel very strongly about. I'm going to continue this. This is the direction I'm headed."
Advertisement - story continues below
Earlier this week, Tafoya announced she was leaving the sports world behind to support Kendall Qualls in his run for governor of Minnesota.
"Kendall has a clear message that resonates with the issues Minnesotans are facing under the current administration," she said. "He's smart and with his background and work ethic, I'm positive that he's exactly what Minnesota needs in its next governor."
Truth and Accuracy
We are committed to truth and accuracy in all of our journalism. Read our editorial standards.
Comment Down Below
Conversation