News
North Carolina Newspaper Pens Op-Ed Blasting Meadows: 'An Embarrassment'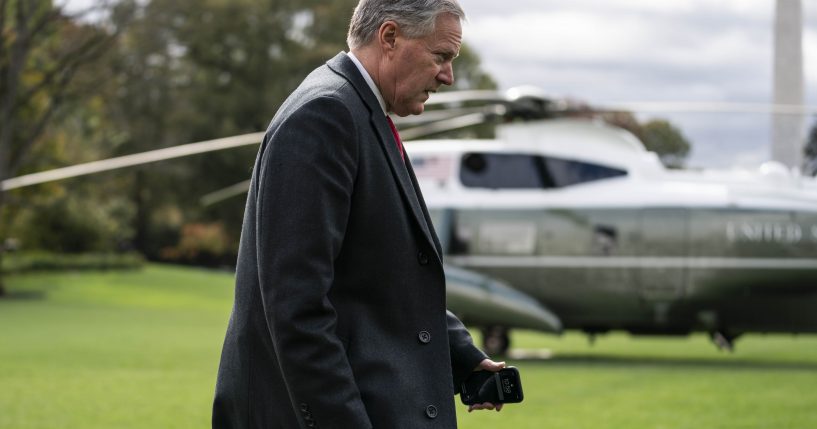 A North Carolina newspaper criticized former White House Chief of Staff Mark Meadows, saying he is "emerging as a disgrace."
Meadows served as the representative for North Carolina's 11th district from 2013 to 2020.
"When will the N.C. Republican Party censure Mark Meadows?" The News and Observer wrote in an op-ed titled, "Mark Meadows is an embarrassment to NC. Congress should take a hard line with him."
Advertisement - story continues below
It continues, "The answer, of course, is never. But that won't hide the embarrassment that Meadows is for his party or for the state he represented in Congress for seven years."
The newspaper argued Meadows is "emerging as a disgrace during a dangerous hour for U.S. democracy."
The editorial board noted Meadows has sued to block the January 6 committee's subpoenas against him as "overly broad and unduly burdensome."
The authors pointed out Meadows has "turned over thousands of pages of documents to the committee, but is withholding some 1,000 text messages."
Advertisement - story continues below
Mentioning his new book, the op-ed explains, "Meadows delivers a mostly air-brushed version of his time in the White House, but he does reveal that Trump tested positive for COVID three days before a presidential debate with Joe Biden, but Trump went anyway."
It goes on, "Meadows, who said a subsequent test of the former president came back negative, did not disclose the positive test, putting others, including the 77-year-old future president, at risk. Trump was hospitalized with COVID-19 three days after the event."
Should he N.C. Republican Party censure Mark Meadows?
According to the editorial board, "For North Carolina, Meadows is more than a figure in a Washington drama. He is the embodiment of how the state's turn to extreme gerrymandering has opened the way for reactionary and incompetent candidates to represent the state in Congress."
Calling Meadows a "Trump sycophant," the editorial board suggested, "The question is whether his eagerness to please included breaking the law."
The op-ed called on the committee to "take a hard line with the former chief of staff who never drew a line for Trump."
Advertisement - story continues below
The House voted to hold Meadows in criminal contempt on Tuesday.
President Joe Biden told reporters Wednesday he believes Meadows "is worthy of being held in contempt."
Truth and Accuracy
We are committed to truth and accuracy in all of our journalism. Read our editorial standards.
Comment Down Below
Conversation