Ocasio-Cortez on Impeachment: 'Every Minute' Trump Is in Office 'Represents a Clear and Present Danger'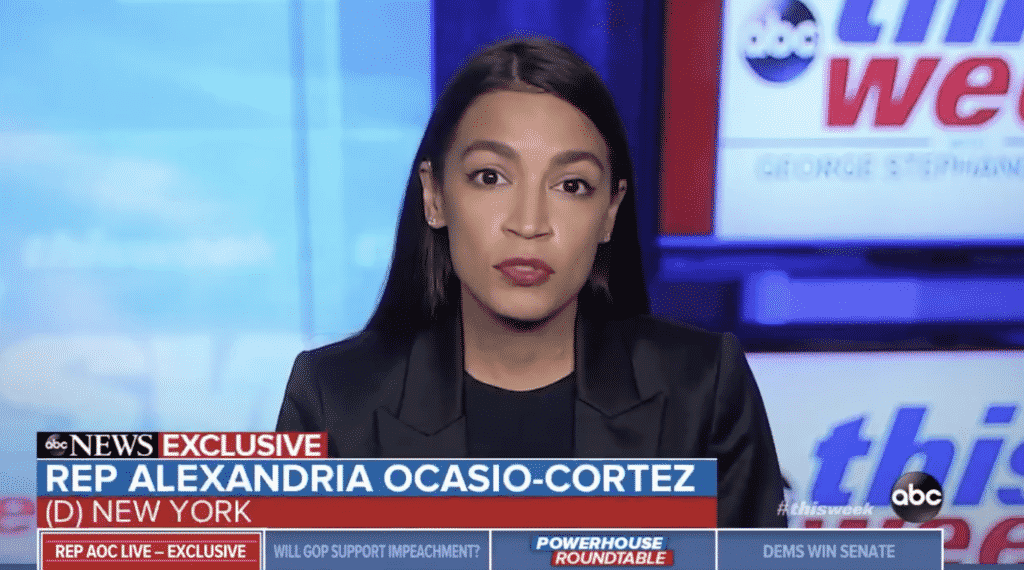 Rep. Alexandria Ocasio-Cortez (D-N.Y.) is throwing her support behind efforts to impeach President Donald Trump suggesting the longer he is in office, the more dangerous he is.
ABC's George Stephanopoulos asked Ocasio-Cortez on Sunday if she believes a vote to impeach the president would pass.
"I absolutely believe that impeachment should be scheduled for several reasons. One, of course, our main priority is to ensure the removal of Donald Trump as president of the United States," Ocasio-Cortez said.
She added, "Every minute and every hour that he is in office represents a clear and present danger, not just to the United States Congress but frankly to the country."
Watch the video below:
Rep. Alexandria Ocasio-Cortez backs impeachment, telling @GStephanopoulos "every minute" that Trump is "in office represents a clear and present danger."

"We're also talking about complete barring of (Donald Trump) from running for office ever again." https://t.co/k4g6uA7rAo pic.twitter.com/k5nIiWuOtx

— This Week (@ThisWeekABC) January 10, 2021
Ocasio-Cortez indicated if Trump was impeached it would bar him "from running for office ever again."
"And in addition to that the potential ability to prevent pardoning himself from those charges that he was impeached for," she continued.
Both Republicans and Democrats have supported the move to impeach Trump.
Sen. Ben Sasse (R-Neb.) said during an interview on CBS on Friday he would "definitely" consider articles of impeachment, as IJR previously reported.
Rep. Adam Kinzinger (R-Ill.) expressed support for invoking the 25th Amendment to remove Trump from office.
Sen. Lisa Murkowski (R-Alaska) became the first Republican to urge Trump to resign.
"I want him to resign. I want him out. He has caused enough damage. I think he should leave," she said during an interview with the Anchorage Daily News on Friday.
Murkowski added, "He said he's not going to show up. He's not going to appear at the inauguration. He hasn't been focused on what is going on with COVID. He's either been golfing or he's been inside the Oval Office fuming and throwing every single person who has been loyal and faithful to him under the bus, starting with the vice president."
She accused Trump of only wanting to stay in office for the "title" and suggested he is not "capable of doing a good thing."
Trump announced on Twitter on Friday he would be skipping Biden's inauguration, as IJR previously reported.