News
Omar Says She Is 'Very Confident' Pelosi Will Take 'Decisive Action' Against Boebert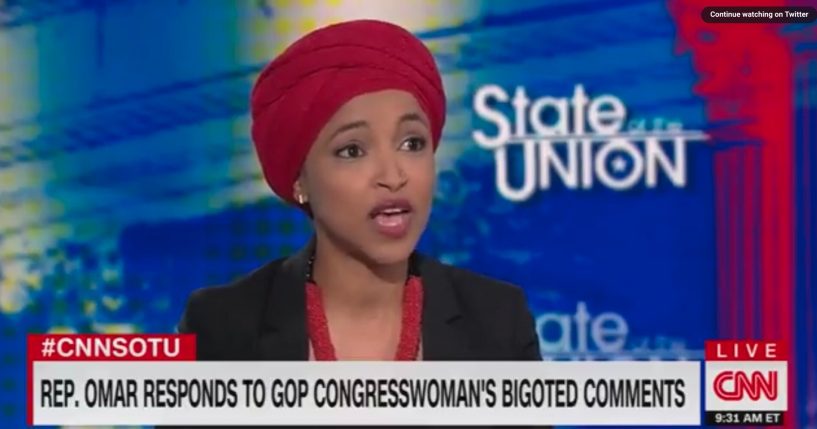 Rep. Ilhan Omar (D-Minn.) believes House Speaker Nancy Pelosi (D-Calif.) will hold a vote to take action against Rep. Lauren Boebert (R-Colo.) for suggesting the Minnesota Congresswoman is a terrorist.
On Sunday, Omar told CNN's Jake Tapper, "I think it's important for us to say this kind of language, this kind of hate cannot be condoned by the House of Representatives."
"And we should punish and sanction Boebert by stripping her of committees, by rebuking her language, by doing everything that we can to send a clear and decisive message to the American public that if the Republicans are not going to be adults and condemn this, that we are going to do that," she continued.
Advertisement - story continues below
Tapper asked if she believes Pelosi will hold a vote to strip Boebert of her committee assignments.
"I've had a conversation with the speaker, and I'm very confident that she will take decisive action next week," Omar responded.
Watch the video below:
Rep. Ilhan Omar (D-MN) says she is "very confident" that House Speaker Nancy Pelosi will take "decisive action" against Rep. Lauren Boebert (R-CO) "next week" following Islamophobic comments directed at Omar. pic.twitter.com/nnt5px2Ezn

— The Recount (@therecount) December 5, 2021
Advertisement - story continues below
In November, a video surfaced of Boebert sharing an allegedly made up story about an elevator ride she had in the Capitol with Omar.
"I was getting into an elevator with one of my staffers," Boebert began as she claimed she saw a Capitol police officer "running hurriedly to the elevator" with "fret all over his face."
Should Boebert be punished for her comments?
She continued, "I look to my left, and there she is — Ilhan Omar. And I said, 'Well, she doesn't have a backpack. We should be fine.' So we only had one floor to go…I looked over, and I said, 'Oh look, the jihad squad decided to show up for work today.'"
She later apologized to "anyone in the Muslim community I offended with my comment."
House Majority Leader Steny Hoyer (D-Md.) was asked last week if Democrats would censure Boebert. He said, "We're considering what action ought to be taken."
Advertisement - story continues below
However, he added that he would not "prejudge" what actions they might take.
Truth and Accuracy
We are committed to truth and accuracy in all of our journalism. Read our editorial standards.
Comment Down Below
Conversation