News
Pelosi Mistakenly Calls Biden's 'Build Back Better' Plan the 'Full Obama Agenda'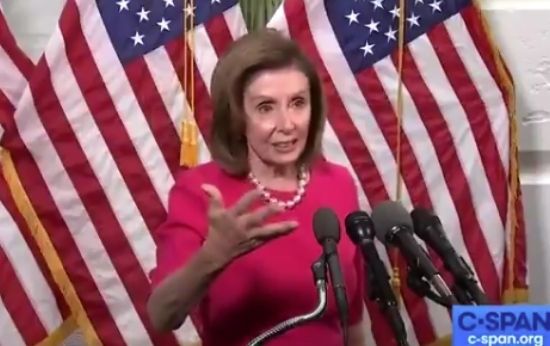 House Speaker Nancy Pelosi (D-Calif.) mistakenly referred to President Joe Biden's "Build Back Better" plan as the "full Obama agenda."
Pelosi called for keeping the government open during her remarks on Tuesday. She then proceeded to urge Congress "to address the full Obama agenda of building back better."
Watch Pelosi's remarks below:
Advertisement - story continues below
NEW – Pelosi: "Keep government open… to address the full #Obama agenda of building back better."pic.twitter.com/uU0LvIw11y

— Disclose.tv (@disclosetv) September 28, 2021
In a letter to her Democratic colleagues on Tuesday, Pelosi said there is a "moral imperative" to pass the Build Back Better Act.
"As I write this to you, negotiations are being led by President Biden to advance his vision.  The President takes a pride in his agenda, which is shared overwhelmingly by House and Senate Democrats, which creates jobs, gives tax cuts for the middle class, lowers costs for health care and is paid by making the wealthiest few and big corporations pay their fair share," she wrote.
Democrats in Congress are pushing to pass a $3.5 trillion spending package through budget reconciliation.
Advertisement - story continues below
As The Hill reports, "Democratic leadership is trying to reach an understanding on a price tag for the bill by Thursday. It's a herculean effort, but if there's a breakthrough Democratic leaders may be able to mollify progressives and persuade them not to torpedo a bipartisan infrastructure bill that is scheduled to be on the House floor on Thursday. "
Additionally, "Progressives are barreling toward a choice on whether to oppose a bipartisan infrastructure bill if it comes up for a vote on Thursday without some sort of reassurance on the size and details of the reconciliation measure," the outlet reports.
Sens. Joe Manchin (D-W.V.) and Kyrsten Sinema (D-Ariz.) previously indicated they do not support he price tag of a $3.5 trillion spending package. Sinema has also taken issue to "some of the tax increases devised to pay for it," Politico writes, and Manchin said after a White House meeting on Tuesday that "he did not give Biden a top-line number and made 'no commitments from my standpoint.'"
Truth and Accuracy
We are committed to truth and accuracy in all of our journalism. Read our editorial standards.
Comment Down Below
Conversation