News
Pelosi Knocks Republicans When Asked About Potential Concerns If the House Is Flipped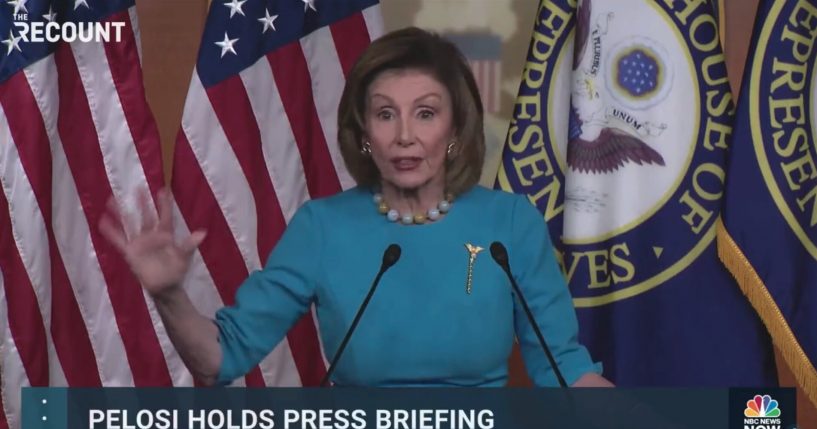 House Speaker Nancy Pelosi (D-Calif.) believes Republicans should not be in the majority in Congress "ever."
During a press conference on Thursday, CNN's Manu Raju asked Pelosi if she was concerned that Republicans might "retaliate" against Democrats for a "perceived" or "serious offense" after the House voted to censure Rep. Paul Gosar (R-Ariz.).
"Is the inference that I draw from your question that we should have not censured Mr. Gosar for his shameful behavior for fear of something the Republicans might do in the unlikely case that they might win the Congress?" Pelosi asked.
Advertisement - story continues below
She continued, "Even if they do, I don't expect that's the case, and I'm doing everything in my power to make sure it isn't. Not just because of Gosar but because of our democracy which they are undermining every single day. And you see their behavior on the floor says they shouldn't have a gavel be anywhere near them ever."
Watch the video below:
Speaker Pelosi in response to @mkraju on the possibility that the GOP will censure Dems when they're in power in the future:

"They shouldn't have a gavel be anywhere near them, ever." pic.twitter.com/A62xWy4dxE

— The Recount (@therecount) November 18, 2021
The exchange comes after the House voted largely along party lines to censure Gosar following his decision to share a controversial anime video depicting him attacking Rep. Alexandria Ocasio-Cortez (D-N.Y.)
Advertisement - story continues below
The chamber voted 223 to 207 to censure Gosar and strip him of his committee assignments. Just two Republicans voted in favor of the measure. One Republican voted present.
An ABC News/Washington Post poll found if the midterm elections were held "today," 51% of registered voters said they would vote for the Republican candidate while 41% said they would vote for the Democratic candidate.
That is the biggest lead for Republicans in the poll since November 1981.
As ABC News notes, "It's only the second time the GOP has held a statistically significant advantage (the other was +7 points in January 2002) and the ninth time it's held any numerical edge at all."
Truth and Accuracy
We are committed to truth and accuracy in all of our journalism. Read our editorial standards.
Conversation