News
Pelosi Rejects 2 of McCarthy's Picks for Jan. 6 Select Committee — He Fires Back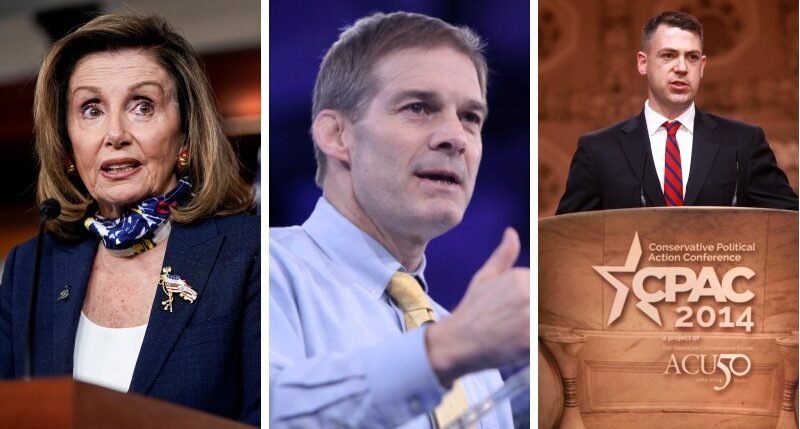 House Speaker Nancy Pelosi (D-Calif.) rejected two of House Minority Leader Kevin McCarthy's (R-Calif.) recommendations for the select committee investigating the January 6 riot at the U.S. Capitol.
The five Republicans McCarthy chose to serve on the committee include Republican Reps. Jim Banks (Ind.), Jim Jordan (Ohio), Rodney Davis (Ill.), Kelly Armstrong (N.D.), and Troy Nehls (Texas).
In a statement on Wednesday, Pelosi said she spoke with McCarthy "about the objections raised about Representatives Jim Banks and Jim Jordan and the impact their appointments may have on the integrity of the investigation."
Advertisement - story continues below
Pelosi added, "I also informed him that I was prepared to appoint Representatives Rodney Davis, Kelly Armstrong and Troy Nehls, and requested that he recommend two other Members."
She announced, "With respect for the integrity of the investigation, with an insistence on the truth and with concern about statements made and actions taken by these Members, I must reject the recommendations of Representatives Banks and Jordan to the Select Committee."
Pelosi argued the "unprecedented nature of January 6th demands this unprecedented decision."
In response to Pelosi's rejection, McCarthy pulled all of his picks, saying in a statement, "Unless Speaker Pelosi reverses course and seats all five Republican nominees, Republicans will not be party to their sham process and will instead pursue our own investigation of the facts."
Advertisement - story continues below
McCarthy previously spoke to reporters about his selections.
"You've got a mix from the entire conference, from people who objected, people who didn't object. … You've got people who authored the commission," he said.
McCarthy continued, "So, you've got a microcosm of the conference."
Pelosi named her appointments to the committee earlier this month, as IJR reported.
Her appointments include Rep. Bennie Thompson (D-Miss.), as chairman, Rep. Zoe Lofgren (D-Calif.), House Intelligence Committee Chair Adam Schiff (D-Calif.), Rep. Pete Aguilar (D-Texas), Rep. Liz Cheney (R-Wyo.), Rep. Stephanie Murphy (D-Fla.), Rep. Jamie Raskin (D-Md.), and Rep. Elaine Luria (D-Va.).
Advertisement - story continues below
Cheney said in a statement she is "honored to have been named to serve on the January 6th select committee."
Truth and Accuracy
We are committed to truth and accuracy in all of our journalism. Read our editorial standards.
Comment Down Below
Conversation