News
Pelosi Shares What She Would Do if She 'Ruled the World'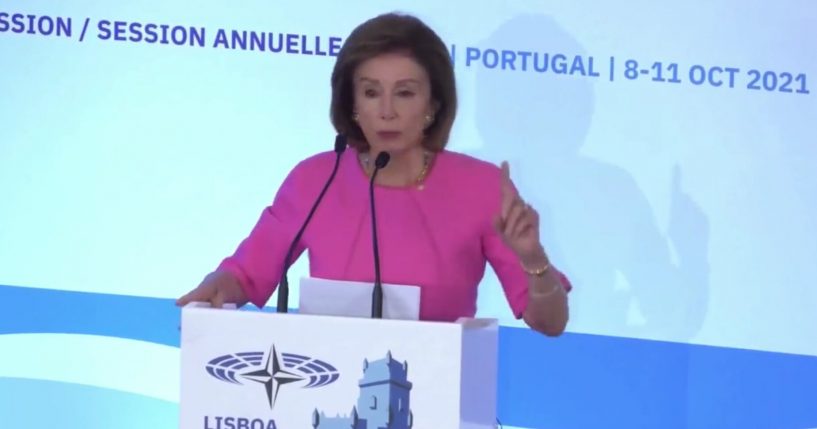 House Speaker Nancy Pelosi (D-Calif.) shared what her priorities would be if she "ruled the world."
After accepting the Women For Peace and Security Award at the annual Session of the NATO Parliamentary Assembly in Lisbon, Portugal, Pelosi said, "People ask me, 'If you ruled the world, what one thing would you do?' I think about that a lot."
She added, "It would be to prioritize the education of women and girls … It would make the biggest difference not only in their lives, their families, their communities but to the world."
Advertisement - story continues below
Pelosi explained, "Because we truly do believe that when women succeed, America succeeds — or any country succeeds. But globally, we all succeed."
She said the award will be displayed "with great pride in the Speaker's Office in the Capitol as a constant reminder and inspiration of the work that you do and the importance of parliaments in the work of security, the economy, governance — the issues that brought us here today."
Watch part of Pelosi's comments below:
Pelosi: "People ask me, 'If you ruled the world, what one thing would you do?' I think about that a lot."

Yeah, I'll bet she does! pic.twitter.com/YruAfYI8ti

— Jake Schneider (@jacobkschneider) October 11, 2021
Advertisement - story continues below
The House speaker recently voiced her frustration with the Texas bill banning abortion after six weeks, calling it a "flagrantly unconstitutional assault on women's rights and health."
Blasting the Supreme Court for deciding to leave the ban in place, Pelosi argued, "That this radically partisan Court chose to do so without a full briefing, oral arguments or providing a full, signed opinion is shameful."
Do you agree with Pelosi's priorities?
Pelosi argued the bill "delivers catastrophe to women in Texas, particularly women of color and women from low-income communities. Every woman, everywhere has the constitutional right to basic health care."
Calling it the most "extreme" and "dangerous" abortion ban in half a century, Pelosi continued, "Its purpose is to destroy Roe v. Wade, and even refuses to make exceptions for cases of rape and incest. This ban necessitates codifying Roe v. Wade."
She has faced criticism for her views on abortion considering she is a Catholic. Still, Pelosi met with Pope Francis over the weekend and said it was a "spiritual, personal and official honor."
Truth and Accuracy
We are committed to truth and accuracy in all of our journalism. Read our editorial standards.
Conversation