News
Pentagon Approves Deployment of National Guard Troops Ahead of Trucker Protest in DC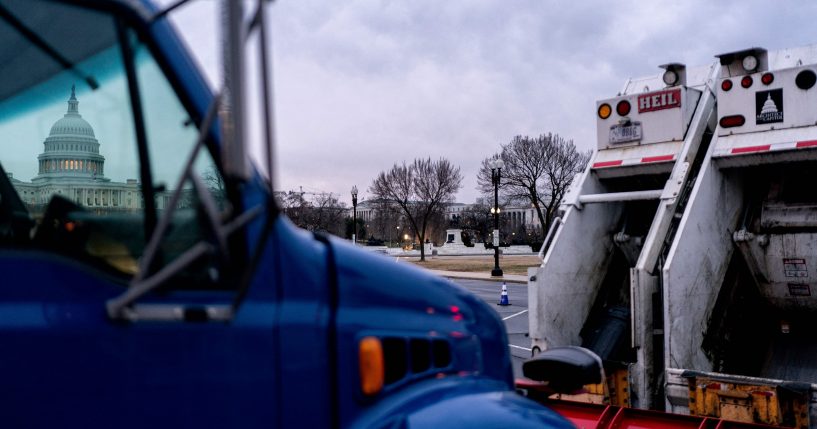 The Pentagon approved the deployment of 700 unarmed National Guard troops to the nation's capital ahead of trucker protests against COVID-19 restrictions.
According to The Associated Press, the Pentagon said the troops would help with traffic control during the protests. The agency made it clear they will not carry firearms or take part in law enforcement or domestic-surveillance activities, as the outlet reported.
The Associated Press noted some protests are expected to arrive in time for the president's March 1 State of the Union address.
Advertisement - story continues below
The Pentagon has approved the deployment of 700 unarmed National Guard troops to Washington, D.C., as the city prepares for trucker convoys that are planning protests against pandemic restrictions beginning next week. https://t.co/20iUnXGbqd

— The Associated Press (@AP) February 23, 2022
The People's Convoy issued a statement, saying trucks "will NOT be going into DC proper."
Another convoy, the American Truckers Freedom Fund, explained on their website the group is "a movement of peaceful, non-violent Americans who are dissatisfied with the unscientific, unconstitutional government overreach in regards to mandates."
The convoys pointed to the protests in Canada as a reason behind their efforts.
Advertisement - story continues below
"To our brave and courageous neighbors to the North — our Canadian brothers and sisters who led the charge — we join your call to Freedom with THE PEOPLE'S CONVOY," the group said in a statement on its website.
Metropolitan Police Department Chief Robert Contee commented on the situation Friday.
Do you agree with the Pentagon's decision?
"As for all of our First Amendment demonstrations that happen here in the city, we have to be in a posture of preparedness for the information that we know," Contee said.
He continued, "Obviously, we follow the trends around the country just as you guys are doing, and when we see trends that may impact us here in Washington, D.C., we prepare for them."
The White House previously said that Biden "expressed his concern that U.S. companies and workers are experiencing serious effects" of protests in Canada, including "slowdowns in production, shortened work hours, and plant closures."
Advertisement - story continues below
Canadian Prime Minister Justin Trudeau said he would take "quick action in enforcing the law."
Truth and Accuracy
We are committed to truth and accuracy in all of our journalism. Read our editorial standards.
Comment Down Below
Conversation