Peter Navarro Tells Dems To 'Knock It off' and Let Trump 'Leave Peacefully With His Dignity'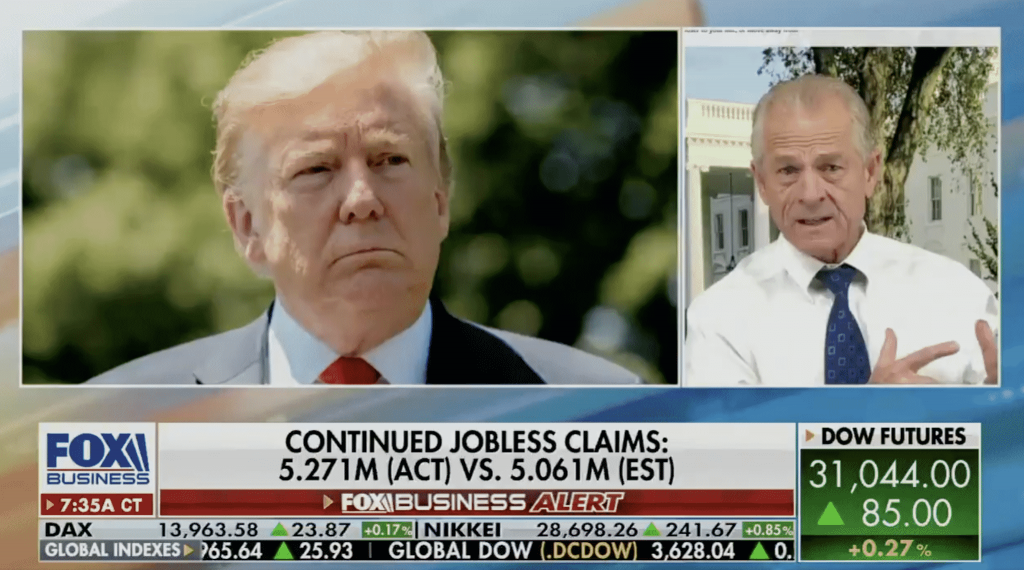 White House trade adviser Peter Navarro is sending a message to House Democrats after they impeached President Donald Trump for a second time.
"What happened yesterday was a travesty. The Democratic party did violence to this country by attacking a president who I believe was legally elected on Nov. 3. If the election were held today, he'd be elected again, and if he runs in 2024, he will be elected then," Navarro said during an appearance on "Fox Business."
He added, "That's what the Democrats fear, and I've never been more pissed off in my life at this place, and I think there's 74 million Americans out there who voted for President Trump who feel exactly the same way. So, I would say to these people on Capitol hill, 'Knock it off, stop this, let the man leave peacefully with his dignity.'"
Watch the video below:
While perpetuating baseless claims that Trump won the election, WH Trade Adviser Peter Navarro says Dems "did violence" by impeaching Trump:

"Knock it off, stop this, let the man leave peacefully with his dignity." pic.twitter.com/3B11KkUSv6

— The Recount (@therecount) January 14, 2021
Lawmakers voted on Wednesday 232-197 to impeach Trump for the second time, as IJR reported.
Ten Republicans cast their votes in favor of impeaching the president including, Rep. John Katko (N.Y.), Rep. Liz Cheney (Wyo.), Rep. Adam Kinzinger (Ill.), Rep. Fred Upton (Mich.), Rep. Jamie Herrera Beutler (Wash.), Rep. Dan Newhouse (WA), Rep. Anthony Gonzalez (Ohio), Rep. Peter Meijer (MI), Rep. Tom Rice (S.C.), and David Valadao (Calif.).
Cheney responded to demands by some Republicans for her to be fired from her position, as IJR previously reported.
"I'm not going anywhere," she told reporters.
Senate Majority Leader Mitch McConnell (R-Ky.) has yet to decide whether he will vote to convict Trump, as IJR previously reported.
"While the press has been full of speculation, I have not made a final decision on how I will vote," McConnell said in a letter he penned to his Republican colleagues.
He continued, "I intend to listen to the legal arguments when they are presented to the Senate."