News
Peter Navarro Says Vaccinating Children Is 'Murder in Some Cases'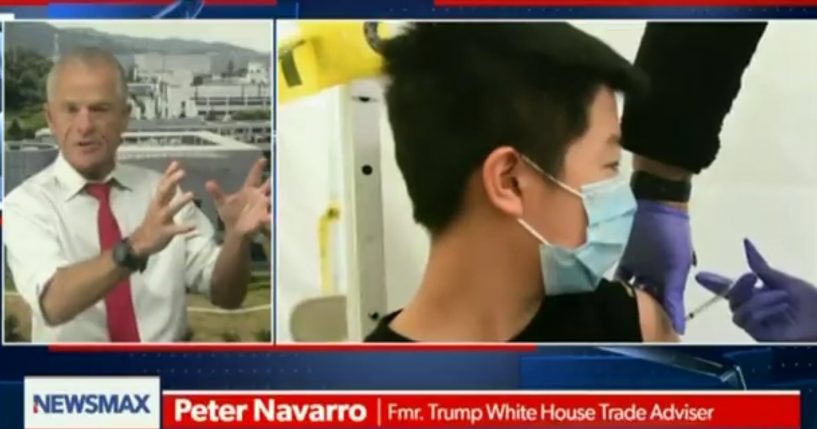 Former White House trade adviser Peter Navarro is speaking out against vaccinating children.
"Let me focus first on these jabs for kids. It's child abuse at a minimum and murder in some cases," Navarro said during an appearance on Newsmax.
He added, "If you're a parent and you have a young male child, you have a one in 2,700 chance of that child developing what's called myocarditis which is inflamation of the heart lining. It's something that could be with that child through his adult life. Now if you just look at those numbers you think, 'Eh one in 27, that's not so bad,' but think about it."
Advertisement - story continues below
Navarro then argued, "It's like, for every one high school, large high school, that lets you go in and force the jabs in there, at least one of those kids would come down with myocarditis."
Check out the video below:
Former Trump adviser Peter Navarro on vaccine "jabs for kids": "It's child abuse at a minimum and murder in some cases." pic.twitter.com/We3mrpBbM4

— Mediaite (@Mediaite) January 4, 2022
According to the U.S. Centers for Disease Control and Prevention, the agency and its partners are "actively monitoring reports of myocarditis and pericarditis after COVID-19 vaccination."
Advertisement - story continues below
The statement continues, "Active monitoring includes reviewing data and medical records and evaluating the relationship to COVID-19 vaccination."
The agency also reported that "myocarditis and pericarditis have rarely been reported, especially in adolescents and young adult males within several days after COVID-19 vaccination."
Last week, The New York Times reported more than eight million Pfizer vaccine doses have been given to children ages 5 to 11 in the U.S.
On Monday, the U.S. Food and Drug Administration approved vaccine boosters for children as young as 12 years old.
Acting FDA Commissioner Janet Woodcock said in a statement, "Throughout the pandemic, as the virus that causes COVID-19 has continuously evolved, the need for the FDA to quickly adapt has meant using the best available science to make informed decisions with the health and safety of the American public in mind."
Advertisement - story continues below
She added, "With the current wave of the omicron variant, it's critical that we continue to take effective, life-saving preventative measures such as primary vaccination and boosters, mask wearing and social distancing in order to effectively fight COVID-19."
Truth and Accuracy
We are committed to truth and accuracy in all of our journalism. Read our editorial standards.
Comment Down Below
Conversation