News
Poll Finds Only 41 Percent of Americans Approve of Biden's Job Performance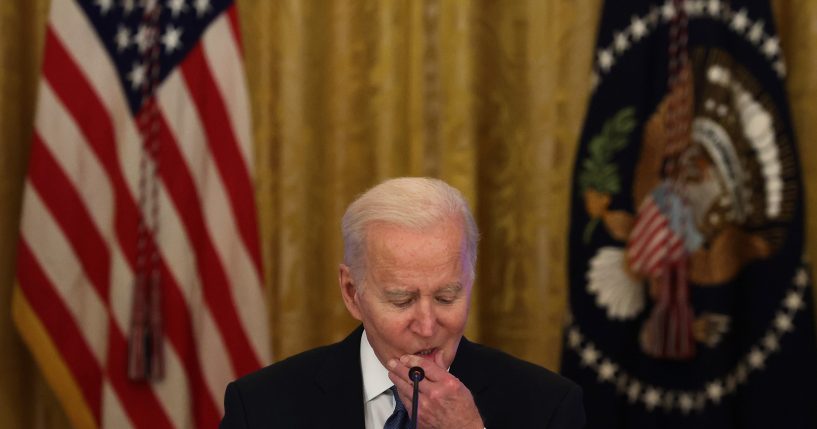 Only 41% of Americans approve of how President Joe Biden is handling his job, according to a poll.
"As major pieces of President Joe Biden's agenda remain bogged down in Congress, and the coronavirus pandemic enters its third year, his approval rating continues to decline among many demographic and political groups," the Pew Research Center survey explains.
The survey found Biden's approval rating is "down slightly from September (44%) and substantially lower than last April (59%)."
Advertisement - story continues below
The poll shows Americans are growing less confident in how Biden is handling issues, including COVID-19. Only 44% of Americans say they are "very or somewhat confident" in Biden to handle the pandemic.
Forty-four percent of Americans are "very or somewhat confident" in Biden to make good decisions about economic policy, and 43% say the same about Biden's ability to handle an international crisis.
Additionally, 30% of Americans are confident in the president to bring the country closer together, while 69% have little or no confidence he can bring the country closer together.
On whether Biden will be successful, 43% say he will be unsuccessful in the long run. Thirty-seven percent say it is "too early to tell," and two-in-ten believe he will be successful.
Advertisement - story continues below
Last week, Biden defended his first year in office during a press conference.
"I didn't overpromise," Biden said.
Do you approve of Biden's job performance?
The president defended his handling of the pandemic, saying, "We're not going back to lockdowns, we're not going back to closing schools."
Biden later received a question about his low job approval ratings.
"I don't believe polls," Biden responded.
Advertisement - story continues below
Vice President Kamala Harris also commented on the poll numbers last week, saying they "go up and down."
She added, "We have to remain consistent in fighting for the American people and their needs. And so that is the strategy about staying focused."
Truth and Accuracy
We are committed to truth and accuracy in all of our journalism. Read our editorial standards.
Comment Down Below
Conversation