News
Poll Finds Close to 60 Percent of Americans Disapprove of Biden's Job Performance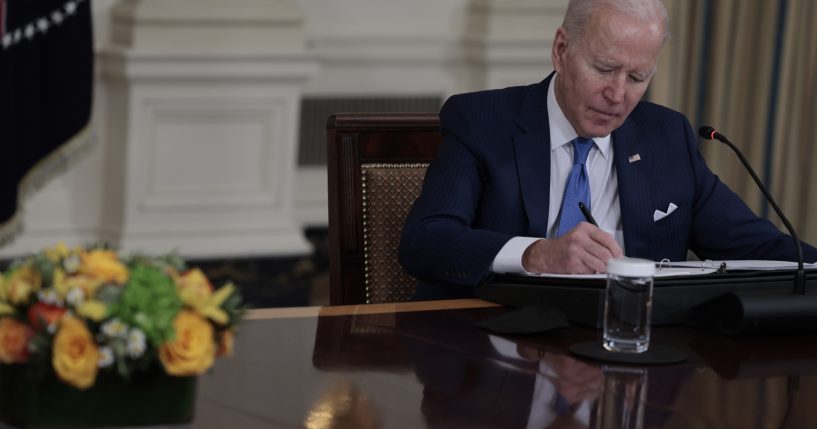 President Joe Biden's approval rating continues to sink, according to a poll.
A new CNN poll released Thursday found 58% of Americans disapprove of Biden's job performance compared to only 41% that approve.
In December, 51% of Americans disapproved while 49% approved–a statistical tie–according to the same poll.
Advertisement - story continues below
More than 60% disapprove of how Biden is handling the economy, and 54% disapprove of his handling of the COVID-19 pandemic.
The poll was conducted between January 10 to February 6 and surveyed 1,527 respondents.
Biden issued a statement Thursday, acknowledging inflation is creating "stress," as IJR reported.
"On higher prices, we have been using every tool at our disposal, and while today is a reminder that Americans' budgets are being stretched in ways that create real stress at the kitchen table, there are also signs that we will make it through this challenge," Biden said.
Advertisement - story continues below
He added, "While today's report is elevated, forecasters continue to project inflation easing substantially by the end of 2022. And fortunately we saw positive real wage growth last month, and moderation in auto prices, which have made up about a quarter of headline inflation over the last year."
The president claimed his administration "will continue to fight to lower costs in areas that have held back families and working people for decades, from prescription drugs to child care and elder care to their energy costs."
Do you disapprove of the way Biden is handling his job?
Last week, Biden touted January's jobs report, as IJR reported.
"America's job machine is going stronger than ever," Biden said.
He continued, "America is back to work. Today we learned that in January, our economy created 467,000 jobs."
Advertisement - story continues below
On Wednesday, ABC's Cecilia Vega asked White House Press Secretary Jen Psaki if she can blame Americans "for being confused and frustrated and having no idea who they should be listening to right now" when it comes to the COVID-19 pandemic.
Psaki explained, "I think we should do everything we can to prevent them from being confused. So I'm restating what our policy is here from the federal government, which is based on public health guidance." 
Truth and Accuracy
We are committed to truth and accuracy in all of our journalism. Read our editorial standards.
Comment Down Below
Conversation