Commentary
Radical Pro-Abortion Group Warns It Is 'Open Season' on Pro-Life Organizations, Vows to Take 'Drastic Measures'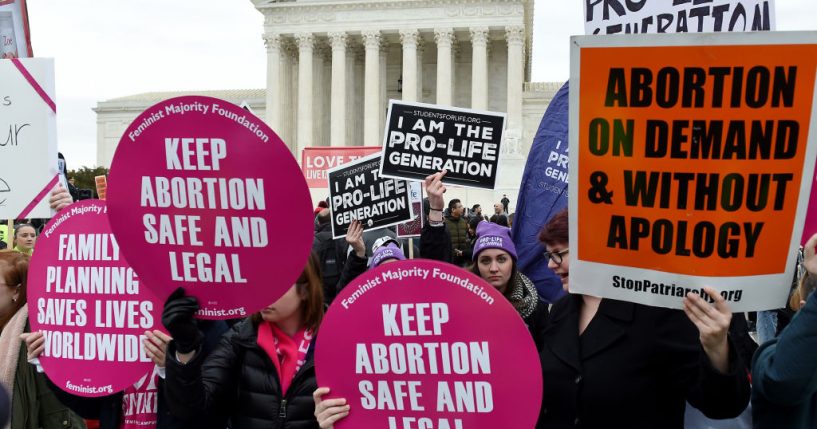 A radical pro-abortion group is calling for an "open season" on pro-life organizations.
In a post on the website Abolition Media, a "communique" claiming to be from Jane's Revenge claimed credit for incidents of vandalism or arson that targeted pro-life organizations such as crisis pregnancy centers.
From there, it started to venture into some pretty disturbing territory in terms of the language.
Advertisement - story continues below
"Your thirty days expired yesterday. We offered an honourable way out. You could have walked away. Now the leash is off. And we will make it as hard as possible for your campaign of oppression to continue. We have demonstrated in the past month how easy and fun it is to attack. We are versatile, we are mercurial, and we answer to no one but ourselves," the statement read.
It continued, "We promised to take increasingly drastic measures against oppressive infrastructures. Rest assured that we will, and those measures may not come in the form of something so easily cleaned up as fire and graffiti."
It went on:
"From here forward, any anti-choice group who closes their doors, and stops operating will no longer be a target. But until you do, it's open season, and we know where your operations are. The infrastructure of the enslavers will not survive. We will never stop, back down, slow down, or retreat. We did not want this; but it is upon us, and so we must deal with it proportionally…Through attacking, we find joy, courage, and strip the veneer of impenetrability held by these violent institutions."
Advertisement - story continues below
"And for the allies of ours who doubt the authenticity of the communiqués and actions: there is a way you can get irrefutable proof that these actions are real. Go do one of your own. You are already one of us. Everyone with the urge to paint, to burn, to cut, to jam: now is the time. Go forth and manifest the things you wish to see," it concluded.
Read the statement below:
Do you think this statement is concerning?
Full statement from Jane's Revenge, announcing that it's "open season" on pro-life pregnancy centers.

Future measures "may not come in the form of something so easily cleaned up as fire and graffiti," the terrorist group threatens.

Merrick Garland????? pic.twitter.com/zxnB53mVzi

— Caroline Downey (@carolinedowney_) June 15, 2022
That is simply radical, disturbing, and meant to intimidate pro-life groups shutting down.
White House Assistant Press Secretary Alexandra LaManna told The Daily Wire, "Violence and destruction of property have no place in our country under any circumstances, and the President denounces this."
Advertisement - story continues below
"We should all agree that actions like this are completely unacceptable, regardless of our politics," LaManna added.
If the shoe was on the other foot and it was a pro-life group that sent this letter, this would absolutely be wrong and rightfully condemned.
This isn't how we settle differences, policy or otherwise, in America. You can't just burn down and vandalize businesses or commit other forms of violence because you want to shut down their operations.
In this time where tensions are high, when someone went to the house of Supreme Court Justice Brett Kavanaugh with the intent to kill him, the last thing we need is a cowardly, unsigned statement calling for "open season" on groups you disagree with.
Advertisement - story continues below
This is not OK, and it's time for President Joe Biden, who campaigned on restoring the soul of America, to publicly and unequivocally denounce this kind of behavior. Where his predecessor fell short in quickly and strongly condemning violence when it was not committed by left-wing agitators, Biden has a chance to stand out and meet the moment.
Truth and Accuracy
We are committed to truth and accuracy in all of our journalism. Read our editorial standards.
Comment Down Below
Conversation