News
Psaki Asked If Biden Needs to 'Course Correct' Presidency as Gas Prices, Inflation Are Up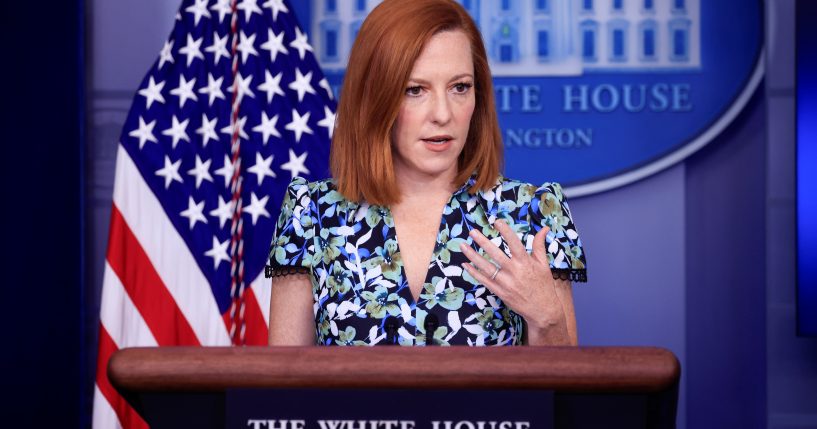 White House Press Secretary Jen Psaki is being asked whether President Joe Biden needs to "course correct" as gas prices and inflation are on the rise.
During a White House press briefing on Friday, Psaki was asked, "Today we saw another jobs report that fell well below expectations, the smallest jobs gains in nearly a year. Gas prices are at a seven-year high. Inflation is up, the president is struggling to get the rest of his Build Back Agenda passed through Congress. How do you assess things stand right now with regards to his presidency? And do you see a need at this point to course correct perhaps?"
"We certainly don't see things as darkly as you do," Psaki responded. "Look, the president's focus is on leading through a challenging time."
Advertisement - story continues below
She went on to note that since Biden took office, the U.S. has added an average of 500,000 jobs a month. She added, "We are at a faster rate of economic growth, a lower rate of unemployment than in quite some time. That's progress."
Watch the video below:
Psaki's comments come as the latest jobs report found that the U.S. added just 194,000 jobs, short of the expected 500,000. Additionally, the average price for a gallon of gas reached a seven-year high, and inflation is hovering at a 30-year high.
Advertisement - story continues below
At the same time, Democrats are struggling to reach an agreement between progressive and moderate wings of the party to pass a roughly $1 trillion infrastructure package and a $3.5 trillion spending bill.
While Psaki rejected the need for a course correction, a recent Quinnipiac University poll found that a majority of Americans disapprove of Biden's handling of the economy, the military, taxes, immigration issues, the COVID-19 pandemic, foreign policy, and the situation at the U.S.-Mexico border, as IJR reported.
Do you think Biden needs to "course correct"?
The poll also found that 55% say the Biden administration is "not competent in running the government."
Overall, 53% of Americans disapprove of his job performance, while just 38% say they approve.
For most of his presidency until early August, Biden's approval rating hovered above 50%. However, in the wake of a surge of new COVID-19 cases and the chaotic exit from Afghanistan, it has fallen and has yet to recover.
Advertisement - story continues below
According to FiveThirtyEight's average of polls, Biden's approval rating is 44%, while his disapproval rating is at 48.9%
Fox News' Chris Wallace called Biden's poll numbers "very bad," and CNN's senior data reporter Harry Enten said they are "going in the wrong direction" for him.
Truth and Accuracy
We are committed to truth and accuracy in all of our journalism. Read our editorial standards.
Conversation