News
Chris Wallace Predicts Biden's 'Very Bad' Poll Numbers Will Make It Hard to Pass Agenda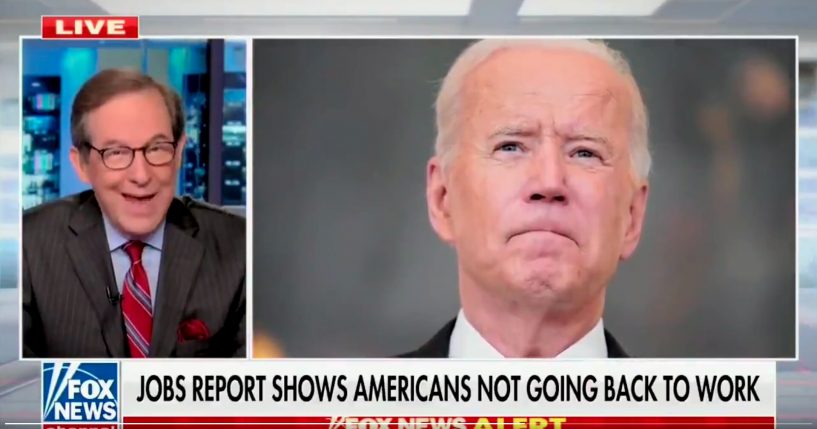 Fox News' Chris Wallace believes that President Joe Biden's sagging polls numbers will make it hard for Congressional Democrats to support his agenda.
On Friday, Wallace said, "As far as the poll numbers, those are very bad for Joe Biden."
"Look, these are tough votes. For moderates spending so much money. For progressives not spending as much money as they want. It's a lot easier to vote for a president, hold your nose whether you think it's too much or too little, if a president has an approval rating in the high 50's or even in the lower 60's," he continued.
Advertisement - story continues below
However, Wallace said, "When he's at 38% approval, 38% not in the 40's, 38% you know he doesn't drive much political cover."
Watch the video below:
Chris Wallace talks about Biden's "Very bad" poll numbers pic.twitter.com/USSTvM4A6D

— The Post Millennial (@TPostMillennial) October 8, 2021
Wallace's comments come as Congressional Democrats are trying to bridge the divide between the moderate and progressive wings of the party to pass a roughly $1 trillion infrastructure package and another $3.5 trillion spending bill.
Advertisement - story continues below
A recent Quinnipiac University poll found that a majority of Americans disapprove of Biden's handling of the economy, the military, taxes, immigration issues, the COVID-19 pandemic, foreign policy, and the situation at the U.S.-Mexico border, as IJR reported.
The poll also found that 55% say the Biden administration is "not competent in running the government."
Overall, 53% of Americans disapprove of his job performance, while just 38% say they approve.
CNN's senior data reporter Harry Enten said on Friday that Biden's poll numbers are "not good."
"Look at August 1, you know, the approval was at 51 percent, the disapproval was at 43, that was a net right there of plus eight," he explained. "But look at what happened, Sept. 1, the net minus two, the disapproval above the approval, and now minus five. So essentially going in the wrong direction. Not good."
Advertisement - story continues below
For most of his presidency until early August, Biden's approval rating hovered above 50%. However, in the wake of a surge of new COVID-19 cases and the chaotic exit from Afghanistan, it has fallen and has yet to recover.
According to FiveThirtyEight's average of polls, Biden's approval rating is 44% while his disapproval rating is at 48.9%
Truth and Accuracy
We are committed to truth and accuracy in all of our journalism. Read our editorial standards.
Conversation