News
Psaki Claims GOP Is 'Screaming From a Bullhorn' About Inflation but Has 'No Plan'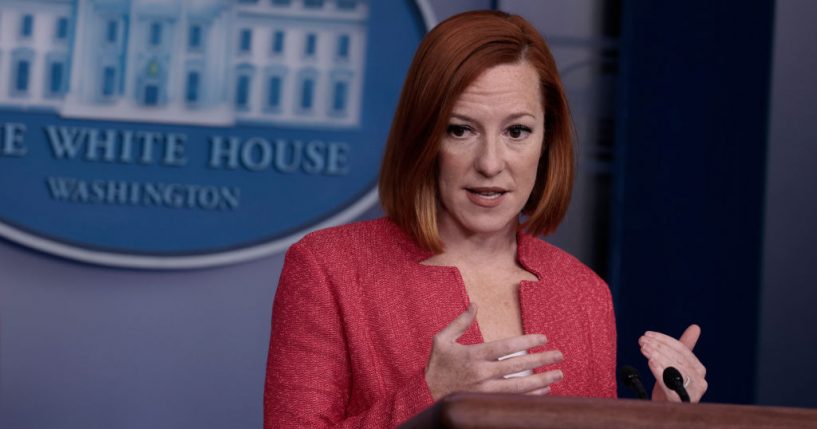 White House Press Secretary Jen Psaki claims Republicans are "screaming" about inflation but do not have a plan to address it.
On Tuesday, she said, "The president is using every weapon in his arsenal to fight inflation."
"What are the Republicans putting forward? They're screaming from a bullhorn, they're tweeting about it. They have absolutely no plan. And what the American people should know and understand is the president has a plan, has had a plan from day one, to fight the pandemic, to address price increases, to get the supply chain moving. We'd welcome them working with us on that," she continued.
Advertisement - story continues below
Listen to her comments below:
WH Press Sec. Jen Psaki on inflation: Republicans are "screaming from a bullhorn, they're tweeting about it, they have absolutely no plan." pic.twitter.com/9z9LBRosVJ

— The Recount (@therecount) November 30, 2021
Inflation refers to the rate of the increase of the costs of goods and services over a period of time.
Earlier on Tuesday, Federal Reserve Chairman Jerome Powell told the Senate that it "now appears that factors pushing inflation upward will linger well into next year."
Advertisement - story continues below
He continued, "The recent rise in COVID-19 cases and the emergence of the Omicron variant pose downside risks to employment and economic activity and increased uncertainty for inflation. Greater concerns about the virus could reduce people's willingness to work in person, which would slow progress in the labor market and intensify supply-chain disruptions."
The price of consumer goods continued to increase in October, reaching a pace not seen in 30 years, as IJR reported.
According to data from the Labor Department, the consumer-price index, a measure of the prices consumers pay for goods and services, rose at its fastest annual pace since 1990.
Republicans have blamed the increase in prices on President Joe Biden's $1.9 trillion American Rescue Plan, and recently passed roughly $1 trillion infrastructure package. Additionally, they argue the larger social spending package Democrats are hoping to pass will fuel inflation.
Reuters notes that "annual inflation rates for dozens and dozens of goods routinely purchased by American households – including food – were already at their highest levels in a decade before Biden entered the White House early this year."
Advertisement - story continues below
Additionally, it points out "that's in large part because of the COVID-19 relief spending enacted under Republican Donald Trump's administration."
Truth and Accuracy
We are committed to truth and accuracy in all of our journalism. Read our editorial standards.
Comment Down Below
Conversation