News
Psaki Defends Harris After Receiving Criticism for Telling Migrants Not To Come To the US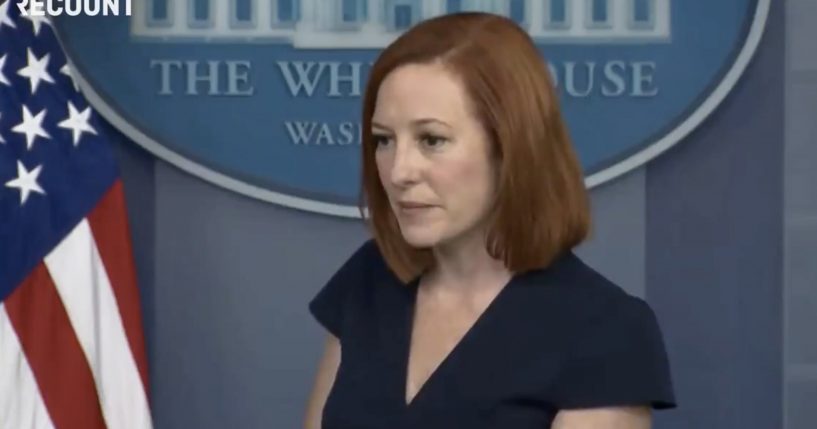 Vice President Kamala Harris is receiving support from White House Press Secretary Jen Psaki after receiving some criticism for telling migrants: "Do not come."
"What the vice president was simply conveying is that there's more work to be done, that we don't have these systems in place yet. It's still a dangerous journey as we've said many times from here and from many forums before," Psaki said during a press briefing on Tuesday.
She added, "We need more time to get the work done to ensure that asylum processing is where it should be."
Advertisement - story continues below
Watch part of the press briefing below:
White House Press Sec. Jen Psaki responds to backlash from @AOC and others after VP Kamala Harris told migrants "Do not come":

"What the Vice President was simply conveying is that there's more work to be done …" pic.twitter.com/IqfQzYpzWk

— The Recount (@therecount) June 8, 2021
During a press conference on Monday, Harris said, "I want to emphasize that the goal of our work is to help Guatemalans find hope at home."
She continued, "At the same time, I want to be clear to folks in this region who are thinking about making that dangerous trek to the United States-Mexico border, do not come, do not come."
Advertisement - story continues below
Harris also stressed, "The United States will continue to enforce our laws and secure our border. There are legal methods by which migration can and should occur. But we, as one of our priorities, will discourage illegal migration. And I believe if you come to our border, you will be turned back."
Rep. Alexandria Ocasio-Cortez (D-N.Y.) criticized Harris for her remarks, "This is disappointing to see. First, seeking asylum at any US border is a 100% legal method of arrival."
She went on, "Second, the US spent decades contributing to regime change and destabilization in Latin America. We can't help set someone's house on fire and then blame them for fleeing."
Additionally, Ocasio-Cortez tweeted, "It would be helpful if the US would finally acknowledge its contributions to destabilization and regime change in the region. Doing so can help us change US foreign policy, trade policy, climate policy, [and] carceral border policy to address causes of mass displacement [and] migration."
The vice president has also received criticism for not visiting the southern border yet, as IJR reported.
Advertisement - story continues below
NBC News' Lester Holt challenged Harris on why she has not visited the border. She replied, "I haven't been to Europe. And I mean, I don't – I don't understand the point that you're making. I'm not discounting the importance of the border. Listen, I care about what's happening at the border."
Truth and Accuracy
We are committed to truth and accuracy in all of our journalism. Read our editorial standards.
Conversation