News
Rand Paul Vows To Send Letter To DOJ Requesting 'Criminal Referral' Into Fauci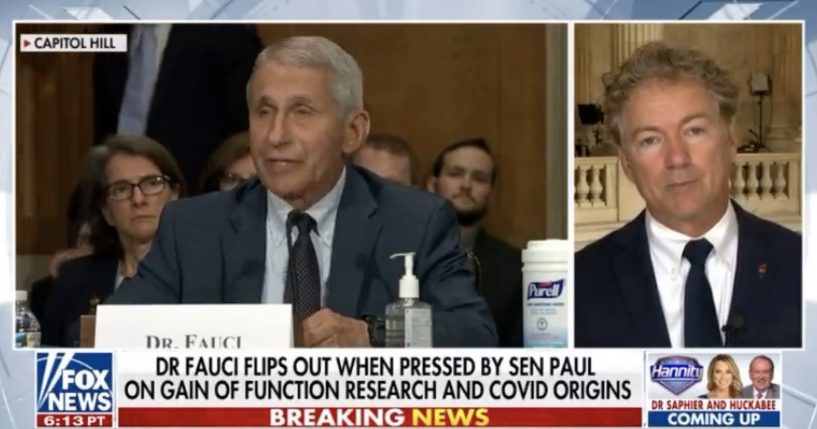 Following his heated exchange with Dr. Anthony Fauci, Sen. Rand Paul (R-Ky.) vowed to send a letter to the U.S. Department of Justice requesting a "criminal referral."
Fox News's Sean Hannity asked Paul if it is his belief that, based on the evidence, Fauci lied to Congress and broke the law.
"Yes, and I will be sending a letter to the Department of Justice asking for a criminal referral, because he has lied to Congress," Paul said.
Advertisement - story continues below
He added, "We have scientists that will line up by the dozens to say that the research he was funding was gain-of-function. He's doing this because he has a self interest to cover his tracks and to cover his connection to Wuhan lab. Now does he deserve all the blame? No, there's still some conjecture as to whether or not it came from the lab. But he's lying about whether or not he funded gain-of-function research, and yes, he should be punished."
Watch part of Paul's interview below:
BREAKING: @RandPaul tells @seanhannity that people who lie to Congress should be prosecuted, increasing the legal jeopardy for @DonaldJTrumpJr. #TrumpCrimeFamily pic.twitter.com/lk8nmLT6oi

— The Daily Edge (@TheDailyEdge) July 21, 2021
During a Senate hearing on Tuesday, Paul and Fauci went back and forth over whether the National Institutes of Health (NIH) funded gain-of-function research in a lab in Wuhan, China, as IJR reported.
Advertisement - story continues below
"Dr. Fauci, knowing that it is a crime to lie to Congress, do you wish to retract your statement of May 11 where you claimed that the NIH never funded gain-of-function research in Wuhan?" Paul said.
Fauci replied, "Sen. Paul, I have never lied before the Congress, and I do not retract that statement."
He later blasted Paul, saying, "You do not know what you are talking about, quite frankly, and I want to say that officially. You do not know what you're talking about."
The health expert went on to accuse Paul of "implying that what we did was responsible for the deaths of individuals."
He added, "I totally resent that. And if anybody is lying here, senator, it is you."
Truth and Accuracy
We are committed to truth and accuracy in all of our journalism. Read our editorial standards.
Conversation