News
Rand Paul's Amendment Would 'Finally Force Accountability and Fire' Fauci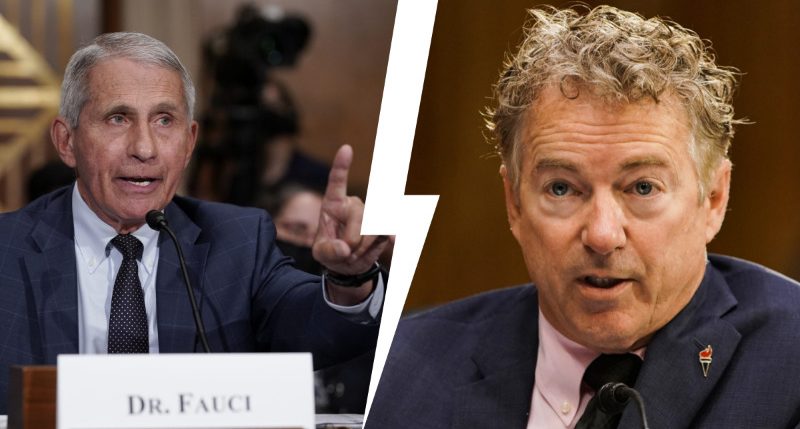 Sen. Rand Paul (R-Ky.) will introduce an amendment to hold Dr. Anthony Fauci, "COVID dictator-in-chief," accountable.
In an op-ed published by Fox News, Paul blasted Fauci for spreading misinformation about the virus.
"We've learned a lot over the past two years, but one lesson in particular is that no one person should be deemed 'dictator in chief.' No one person should have unilateral authority to make decisions for millions of Americans," Paul wrote.
Advertisement - story continues below
He added, "To ensure that ineffective, unscientific lockdowns and mandates are never foisted on the American people ever again, I will introduce an amendment to eliminate Dr. Anthony Fauci's position as director of the National Institute of Allergy and Infectious Diseases and divide his power into three separate new institutes."
According to Paul, each of the three institutes "will be led by a director who is appointed by the president and confirmed by the Senate for a five-year term."
He explained it will "create accountability and oversight into a taxpayer-funded position that has largely abused its power and has been responsible for many failures and misinformation during the COVID-19 pandemic."
'FAR TOO MUCH POWER': Sen. @RandPaul blasts Dr. Fauci, introduces amendment to eliminate his position and prevent others from becoming health 'dictators-in-chief.' https://t.co/dEr9Flizvg pic.twitter.com/8hbqrQEJY7

— Fox News (@FoxNews) March 14, 2022
Advertisement - story continues below
The senator argued that "no one person should have the sole authority to dictate science, especially when that one person wasn't ever following the science."
Paul went on to call Fauci "an unelected bureaucrat with far too much power."
The op-ed goes on to acknowledge the stunning effects lockdowns have had on children and their education. Paul recognized it was not just lockdowns that affected children, it was also "the notion that they MUST wear a mask for eight hours a day that also created psychological issues and inhibited communication between students and teachers."
Paul mentioned a claim by Fauci that cloth masks work to protect against the virus.
"Misinformation can cost lives if the government convinces 80-year-olds to wear useless cloth masks while taking care of spouses with COVID," Paul wrote.
Advertisement - story continues below
Accusing Fauci and "his friends" of working to silence opposing views, Paul continued, "The media amplified his efforts. We were branded conspiracy theorists and anti-science for simply asking questions and presenting alternatives to what had been delivered to the American people as 'fact.'"
Concluding his op-ed, Paul added, "The biggest lesson we have learned over the last two years is that no one person should have this much unchecked power. And my amendment, which will get a vote this week, will finally force accountability and fire Dr. Fauci."
Fauci and Paul have traded several jabs with each other. More recently, Fauci accused Paul of politicizing the pandemic and launching attacks on him to garner campaign contributions, as IJR reported.
Truth and Accuracy
We are committed to truth and accuracy in all of our journalism. Read our editorial standards.
Comment Down Below
Conversation