Redfield Warns COVID Death Toll May Hit 450,000 by February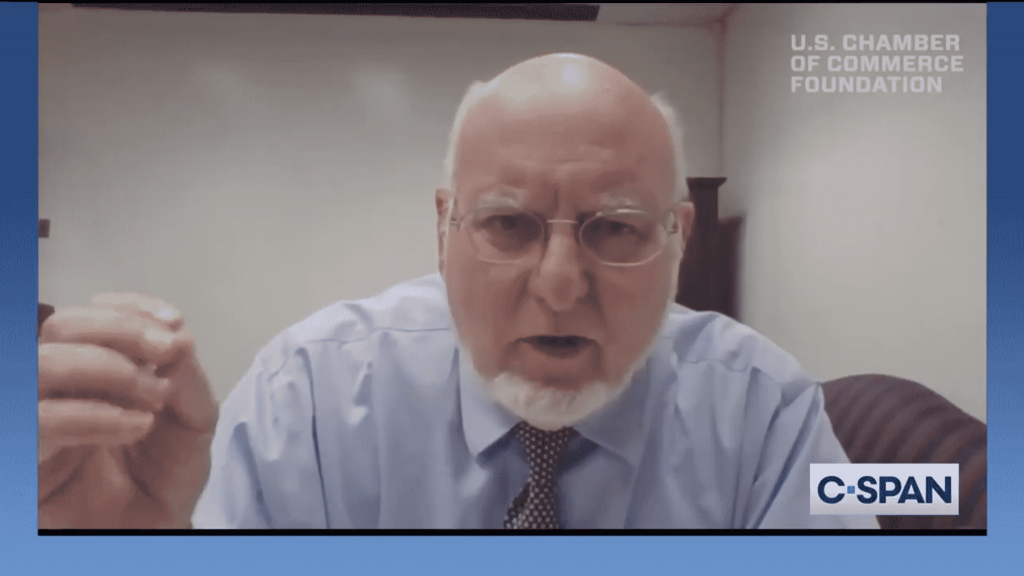 Centers for Disease Control and Prevention (CDC) Director Robert Redfield says it is possible that the COVID-19 death doll could increase by roughly 200,000 by February 2021. 
Speaking during a virtual event with the U.S. Chamber of Commerce on Wednesday, Redfield noted that there were 2,610 coronavirus deaths on Tuesday.
"So, we're in that range, potentially now, starting to see 1,500 to 2,000 to 2,500 deaths a day from this virus," he said, adding, "Yeah, the mortality concerns are real."
He continued, "And I do think, unfortunately, before we see February, we could be close to 450,000 Americans have died from this virus."
As of Wednesday, the country had reported 13.9 million cases of the virus and over 272,000 deaths.
Still, he said that prediction is not a "fait accompli" if the public "really embraces social distancing, wearing a mask, not letting your guard down in family gatherings, limiting crowds, maintaining ventilation, doing events outdoors rather than indoors."
Watch the video below:
.@CDCDirector: "The mortality concerns are real…before we see February we could be close to 450,000 Americans have died from this virus." pic.twitter.com/aq4UnhWzqG

— CSPAN (@cspan) December 2, 2020
Additionally, he did not mince words about what the weeks and months ahead will hold for the nation. He said, "The reality is, December and January and February are going to be rough times. I actually believe they're going to be the most difficult time in the public health history of this nation, largely because of the stress that it's going to put on our health care system."
His comments come as the nation is seeing a massive surge in cases. On Tuesday, the country reported 184,294 new cases and 98,691 hospitalizations.
Currently, 35 states and Washington, D.C., and Puerto Rico are continuing to see high numbers of new cases. Meanwhile, 12 states and Guam are still recording high numbers of new cases but are starting to see those numbers decrease. 
Only Maine, Vermont, Hawaii, the U.S. Virgin Island, and the Northern Mariana Islands have been able to keep the number of new cases down.
In 34 states, the death toll — a lagging indicator — is on the rise.
The new surge in cases comes at the beginning of the holiday season — one of the peak travel times in the country. Health officials and the CDC have pleaded with Americans to forgo their family gatherings to help stop the spread of the virus.
On Wednesday, the CDC's Covid incident manager Henry Walke said, "The best thing for Americans to do in the upcoming holiday season is to stay at home and not travel."
"Cases are rising. Hospitalizations are increasing. Deaths are increasing. We need to try to bend the curve, stop this exponential increase," he added.