News
Report Reveals How Many Gaffes Biden Had Over the Course of November Alone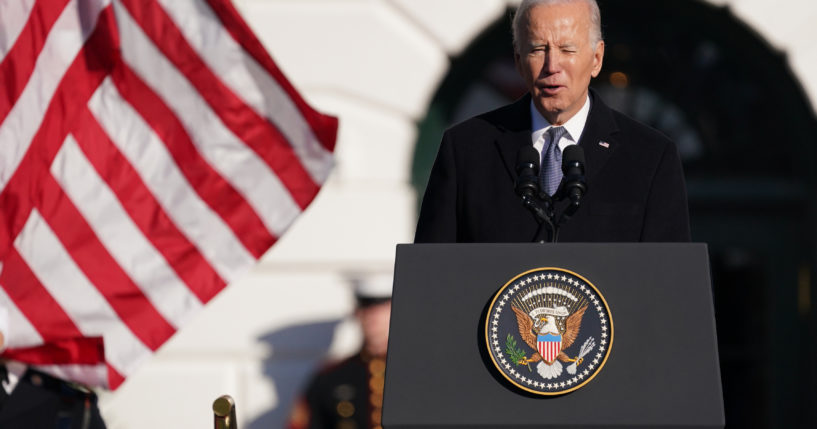 A report has published President Joe Biden's "gaffe average" for the month of November, showing he has averaged a half a gaffe per workday during the month.
According to Fox News, Biden had 11 gaffes total over the course of November.
The outlet's report noted the number is a slight "slump in batting average compared to his nearly once a day hot streak" back in October.
Advertisement - story continues below
However, as Fox News explains, it is still "notable during his multiple campaign speeches ahead of the midterm elections and foreign policy summit events."
The report goes on to list examples of some of Biden's gaffes.
During his speech at the United Nations Climate Change Conference earlier this month, Biden appeared to struggle with reading off of the teleprompter.
"Our significant climate investment will quote help turbocharge the emer… the ener… the er… excuse me… turbocharge the emerging global clean energy cli… clean energy economy," Biden said.
Advertisement - story continues below
He added, "I was reading the quote, sorry."
In case you missed it:
Is this surprising to you?
Biden struggles to read a quote off the teleprompter and then says "I was reading the quote. Sorry." pic.twitter.com/Wv1GQ2sDwA

— Greg Price (@greg_price11) November 11, 2022
During an event at Bowie State University, the president appeared to forget the name of a Democratic candidate he was rallying for in Maryland.
"Here in Maryland, you've got some great people to vote for… You got that next governor. What's his name? Wes … Wes … Wes Moore!" Biden told the crowd at the time.
Advertisement - story continues below
He declared Moore is "the real deal, man," adding, "He's a combat veteran and a Rhodes Scholar. I've always worried about Rhodes Scholars, though. They're so damn smart. I wonder about it, you know?"
Watch the moment below:
A POLITICO/Morning Consult poll recently found 46% of respondents believe Biden is mentally fit while 48% disagree.
Advertisement - story continues below
The poll came amid questioning of whether Biden would make another run for the White House in 2024.
While speaking at the White House Tribal Nations Summit Wednesday, Biden appeared to cast doubt on four more years, as IJR reported.
An individual in the crowd shouted during the event, "Four more years!"
Biden replied, "I don't know about that. Thanks — thank you."
Truth and Accuracy
We are committed to truth and accuracy in all of our journalism. Read our editorial standards.
Comment Down Below
Conversation