News
Report Reveals the 'Point of Tension' in Biden and Harris' Relationship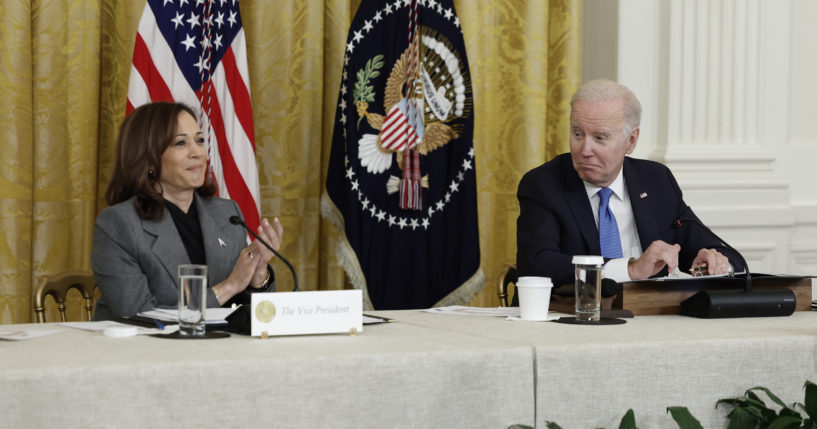 President Joe Biden has some frustrations about Vice President Kamala Harris when it comes to her work, according to a report.
Democratic sources spoke with Reuters, telling the outlet while Biden and Harris have a good working relationship, the president is not always thrilled with the work she does.
He is also not confident Harris nor any other Democrats would be able to defeat former President Donald Trump in 2024, according to a former White House official.
Advertisement - story continues below
"If he did not think she was capable, he would not have picked her. But it is a question of consistently rising to the occasion," the former official said to Reuters.
The official explained, "I think his running for re-election is less about her and more about him, but I do think that she and the Democratic bench (are) a factor."
The outlet noted Harris' favorability rating stands at 39% citing an average by RealClearPolitics.
The rating comes in below that of Biden's 42.3%.
Advertisement - story continues below
Some Democrats have reportedly been disappointed that Harris has not taken more of an initiative on crucial issues, along with capitalizing on her platform and "inoculating herself — and her running mate — against the criticism that could overshadow their next campaign," as Reuters explained.
One Democrat close to the White House said, "I think this is actually one of the fundamental strategic challenges for (Biden) … how to navigate this."
Do you think Biden would consider dropping Harris from the 2024 ticket?
The Democrat continued, "It's almost impossible for them to make a change."
The former White House official noted Biden could lose votes if he drops Harris for 2024.
"You cannot replace your first Black woman vice president and think that Black people and women are going to just vote for you," the official said, adding, "He needs her."
Advertisement - story continues below
Others are very confident Biden would not lose Harris.
"They have a great relationship. He leans on her a lot," Cedric Richmond, former senior adviser for Biden, told the outlet.
He suggested people "consistently underestimate both of them, and they consistently prove people wrong."
When asked if there was chatter about removing Harris from the 2024 ticket, Richmond replied, "I would adamantly say that the answer is: Hell no!"
Advertisement - story continues below
However, some who currently work or have worked in the White House claimed Harris lacks engagement when it comes to policy.
"A point of tension in their relationship is that I don't think that the president sees her as somebody who takes anything off of his plate," a second former White House official said.
The official suggested it is the "fear of messing up" that has led Harris to be delayed on significant issues, per Reuters.
The report comes just after Harris struggled to define her role as vice president during an interview with "Late Show" host Stephen Colbert, as IJR reported.
Advertisement - story continues below
In case you missed it:
Colbert stumps @VP Harris on what her job is. pic.twitter.com/gAAcRNjG2q

— Tom Elliott (@tomselliott) March 16, 2023
After failing to directly answer the question of what her job entails, Harris went on about how great of a leader Biden is.
"That's an excellent answer and, uh, the question was what's the job of the vice president," Colbert replied.
Truth and Accuracy
We are committed to truth and accuracy in all of our journalism. Read our editorial standards.
Comment Down Below
Conversation