News
Report Reveals How Much the Average Cost of a Thanksgiving Meal Increased Over the Last Year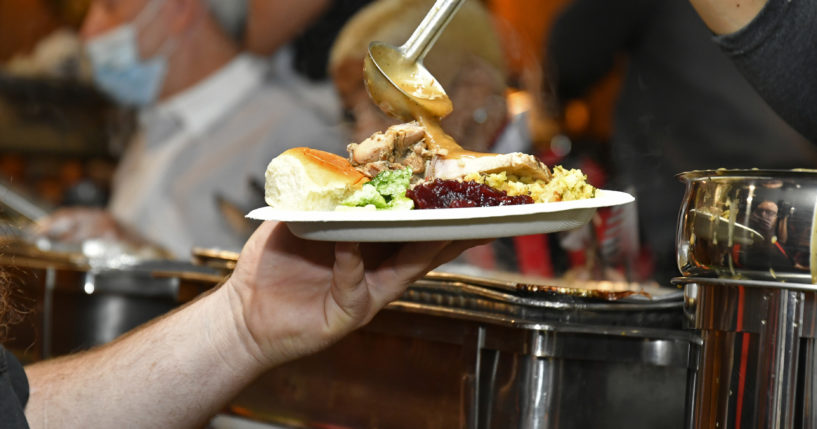 The average cost of a Thanksgiving meal has gone up over the last year, according to a report.
According to the Farm Bureau, the average cost of a Thanksgiving meal for 10 people has reached roughly $64.00.
The Bureau noted the cost marks a $10.74 or 20% increase from the 2021 average of $53.31.
Advertisement - story continues below
According to the report, a 16-pound bird costs $28.96.
That is an increase of 21% from last year.
AFBF Chief Economist Roger Cryan explained, "General inflation slashing the purchasing power of consumers is a significant factor contributing to the increase in average cost of this year's Thanksgiving dinner."
He added, "Other contributing factors to the increased cost for the meal include supply chain disruptions and the war in Ukraine."
Advertisement - story continues below
This year's classic Thanksgiving feast for 10 will run you $64.05—less than $7 dollars per person—according to Farm Bureau's 37th annual #ThanksgivingSurvey. 👇 pic.twitter.com/CcdfDFZruo

— American Farm Bureau (@FarmBureau) November 16, 2022
According to Cryan, "The higher retail turkey cost at the grocery store can also be attributed to a slightly smaller flock this year, increased feed costs and lighter processing weights."
Are you surprised the price went up?
Cryan said farmers are "working hard to meet growing demands for food – both here in the U.S. and globally – while facing rising prices for fuel, fertilizer and other inputs."
The Bureau's survey includes costs for turkey, stuffing, sweet potatoes, rolls with butter, peas, cranberries, a veggie tray, pumpkin pie with whipped cream, and coffee and milk.
 AFBF President Zippy Duvall said, "We should not take our food supply for granted."
Advertisement - story continues below
Duvall added, "Supporting sustainable productive agriculture in the U.S. and globally is imperative."
The survey was calculated using 224 surveys with pricing data from all 50 states and Puerto Rico.
Emily Weinstein, food & cooking editor of The New York Times, shared ways to save on the cost of the meal.
"Just buy exactly the size turkey you need," she said.
Advertisement - story continues below
Weinstein added, "Don't buy a giant one hoping for leftovers."
She suggested doing a potluck, saying,  "Ask your loved ones to bring dishes. Everyone will be happy to be involved."
Truth and Accuracy
We are committed to truth and accuracy in all of our journalism. Read our editorial standards.
Comment Down Below
Conversation