News
Republican Lawmaker Calls Schiff 'The Jussie Smollett of Congress'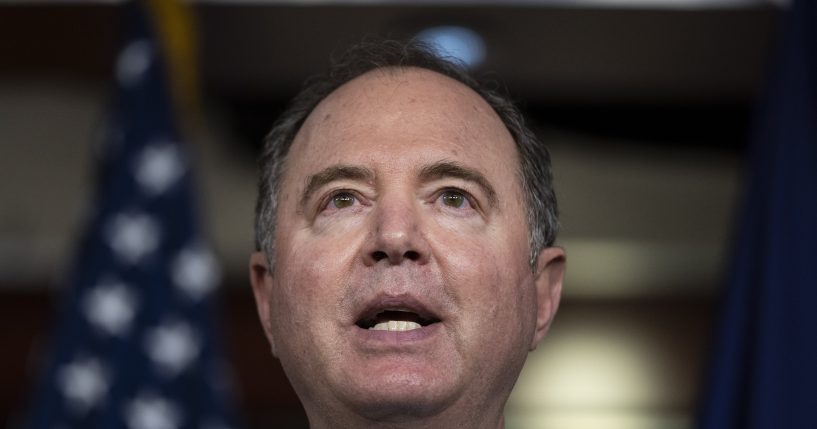 Rep. Dan Bishop (R-NC) took a swipe at House Intelligence Committee Chairman Adam Schiff (D-Calif.), calling him the "Jussie Smollet of Congress."
Fox Business Network's Elizabeth MacDonald explained Thursday evening, "Democrat Adam Schiff saying that even though there are many discredited claims in the debunked Steele Dossier, that the [Department of Justice Inspector General] and multiple experts have said this is totally false, he's still thinking parts of it are trust trustworthy and going after Trump."
She played a clip of Schiff's interview with CNN's Wolf Blitzer. The anchor pointed out that a series of investigations and lawsuits have discredited allegations included in the Steele Dossier.
Advertisement - story continues below
He asked Schiff, "Do you worry, Congressman, that your credibility, other Democrats' credibility could be hurt by that?"
Schiff replied, "No. And people who have been following the investigation understand the very limited role that the Steele Dossier played."
He continued, "It doesn't change Donald Trump's corrupt behavior in 2016."
Check out part of the interview below:
Advertisement - story continues below
Adam Schiff is the Jussie Smollett of Congress.

Russia collusion was always a lie, as was the Steele Dossier, and he knew it. pic.twitter.com/npezXxB2Z2

— Rep. Dan Bishop (@RepDanBishop) December 10, 2021
MacDonald accused Schiff of "misleading again," adding, "The Steele dossier did not play a limited role. The DOJ inspector general noted the FBI used the Steele dossier as a basis to get FISA wiretaps – meant for terrorists – to go after the Trump campaign. There goes Adam Schiff misleading again."
Is Schiff the "Jussie Smollet of Congress"?
When asked for his reaction, Bishop said, "Adam Schiff is the Jussie Smollett of Congress. He just hasn't had his trial yet."
On Thursday, a jury found Smollett guilty on five out of six charges for staging a hate crime and lying to police officers.
Schiff has previously stressed that he does not regret promoting the Steele Dossier. He read some of the allegations included in the report on the House floor Thursday.
Advertisement - story continues below
"Are you aware that the president's campaign chairman Paul Manafort [secretly] met with an agent of Russian intelligence and provided Russian intelligence with internal campaign polling data, as well as strategic insights about their intelligence in key battleground states? Are you aware of that?" Schiff said.
He added, "Are you aware that while the Trump campaign chairman was providing internal polling data, that Kremlin intelligence was leading a clandestine social media campaign to elect Donald Trump?"
Schiff went on to say he was "happy to continue to outline the contacts between the Trump campaign and Russia, their solicitation of Russian help in the election, the former president's effort to coerce Ukraine into helping him cheat in the election."
Truth and Accuracy
We are committed to truth and accuracy in all of our journalism. Read our editorial standards.
Comment Down Below
Conversation