Susan Rice: Trump Is Doing Russia's 'Bidding' After Failing to Respond to Alleged Bounties on Americans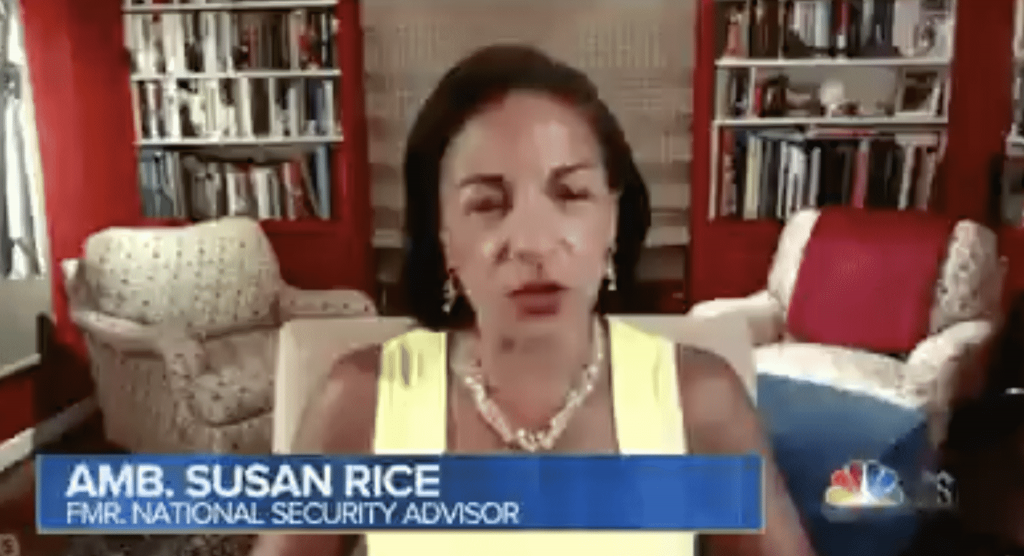 Former National Security Adviser Susan Rice is slamming President Donald Trump for failing to appropriately respond to intelligence reports suggesting Russian operatives placed bounties on U.S. soldiers in Afghanistan.
The White House and the Director of National Intelligence John Ratcliffe previously denied Trump was initially briefed on the issue.
Rice appeared on NBC's "Meet the Press" where she was asked why Trump had six subsequent phone calls with Vladimir Putin following the revelation of the intelligence and why he did not did not raise the issue to him.
Rice argued this is the time to think of consequences for Putin rather than catering to him.
"This is not the time to be handing Putin an olive branch. This is a time to be working up options to punish him," Rice said.
She continued, "And yet that's not what happens. This is really extraordinary. We have a president who is doing our arch adversary's bidding, it would seem."
Watch her comments below:
EXCLUSIVE: "We have a president who is doing our arch adversary's bidding. … And he is surrounded by sycophants and weaklings." — @AmbassadorRice on the White House's claim that President Trump didn't know about Russian bounties on American heads. #MTP #IfItsSunday pic.twitter.com/iyyunNLpJ9

— Meet the Press (@MeetThePress) July 5, 2020
Trump has received backlash from others including House Speaker Nancy Pelosi (D-Calif.) and Democratic presidential candidate Joe Biden.
During an appearance on ABC News' "This Week" on June 28, Pelosi said Trump "should have been briefed" on the reports and explained Trump may have ignored them because, "The president wants to ignore any allegation against Russia," as IJR previously reported.
Just days later Pelosi responded to Trump's claim the reports are a "hoax" by calling the president a "hoax" himself.
On June 30, Biden revealed his opinion of how Trump handled the intelligence, as IJR previously reported.
Biden said Trump's actions were a "dereliction of duty."
Rice went on to slam intelligence officials for not properly briefing Trump.
"He's surrounded by sycophants and weaklings who aren't doing their jobs, who don't have the confidence in themselves and in the mission that they are there to carry out to bring the president the tough messages he needs to hear," Rice said.
During a press briefing on June 30, White House Press Secretary Kayleigh McEnany said Trump had been officially briefed on the matter.