News
Ronna McDaniel Defends RNC's Decision to Censure Cheney, Kinzinger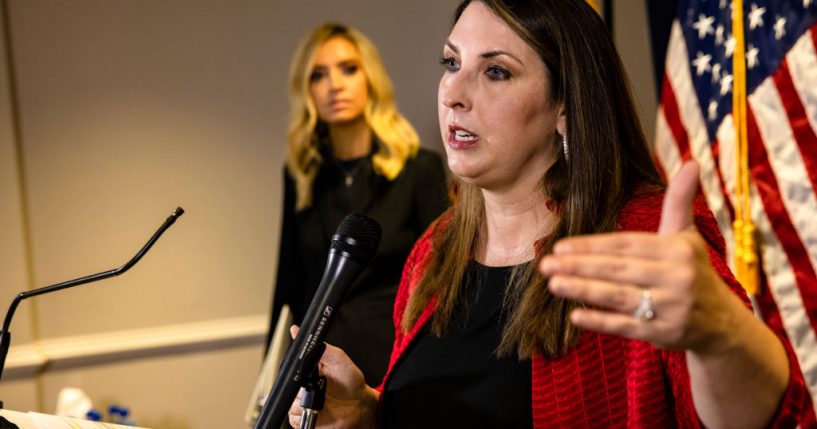 Republican National Committee Chairwoman (RNC) Ronna McDaniel accused the media of "distorting" the organization's decision to censure Reps. Liz Cheney (R-Wyo.) and Adam Kinzinger (R-Ill.).
In an op-ed published by Townhall, McDaniel defended the decision.
"If corporate news media wants to know why Americans don't trust it anymore, they should look no further than the shameful, outrageous, and patently false coverage of the resolution adopted by the RNC to censure Reps. Liz Cheney and Adam Kinzinger," McDaniel wrote.
Advertisement - story continues below
McDaniel argued she has "repeatedly condemned the violence that occurred at the Capitol on January 6th and do so again today."
She suggested those who participated in the riot "should be held accountable with due process by the appropriate law enforcement authorities and prosecutors."
Still, McDaniel explained, "But the awful events of that day do not justify Cheney or Kinzinger enabling a partisan committee whose real purpose seems to be helping Democrats' electoral prospects at the cost of potentially ruining innocent people's lives."
McDaniel went on to say Cheney and Kinzinger were "hand-picked by Nancy Pelosi."
Advertisement - story continues below
She accused Cheney and Kinzinger of "cheapening the events of January 6th by participating in Nancy Pelosi's partisan committee."
The op-ed goes on to claim the lawmakers "have permitted their party affiliation to be weaponized to allow the Democrats gross overreach and abuse of power. In short, they never should have agreed to be part of a committee where Republicans were denied representation."
Do you think they are "cheapening the events" of January 6?
Concluding her op-ed, McDaniel wrote, "As I have repeatedly stated, violence is not legitimate political discourse – whether in the U.S. Capitol or in Democrat-run cities across the country – and neither is abusing Congress' investigatory powers for political gain."
She continued, "Media outlets pretending that the RNC believes otherwise are doing so in bad faith, and their lies should be called out for the cheap political stunts they are."
Some Republicans have disagreed with the censure, including Senate Minority Leader Mitch McConnell (R-Ky.), as IJR reported.
Advertisement - story continues below
"With regard to the suggestion that the RNC should be in the business of picking and choosing Republicans who ought to be supported, traditionally the view of the national party committees is that we support all members of our party regardless of their positions on some issues," McConnell told reporters.
Truth and Accuracy
We are committed to truth and accuracy in all of our journalism. Read our editorial standards.
Comment Down Below
Conversation