News
Russia Confirms Prisoner Exchange Talks After US Pressed for Griner, Whelan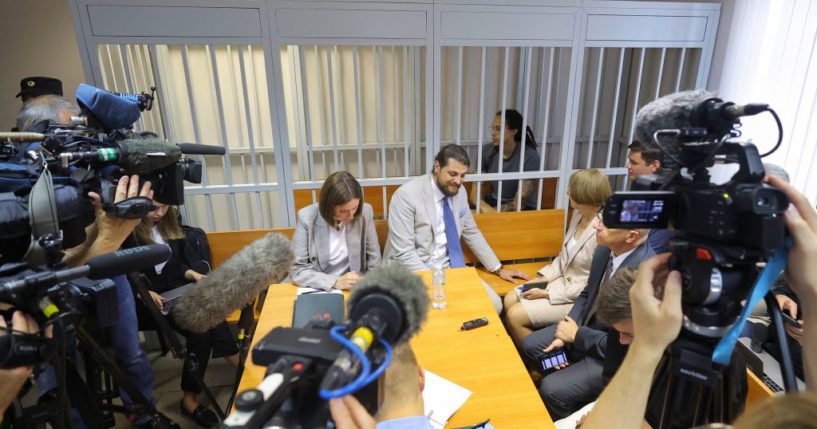 The Russian Foreign Ministry confirmed that they are negotiating with the United States on a prisoner swap, after WNBA star Brittney Griner was sentenced by Russia.
Ministry spokesman Ivan Nechayev confirmed the talks Thursday, according to The Washington Post, who cited Russian state media.
The United States proposed a deal that would include the exchange of Griner and another American prisoner held by Russia, Paul Whelan.
Advertisement - story continues below
"Instructions were given to authorized structures to carry out negotiations," Nechayev told journalists in Moscow on Thursday, state media reported. "They are being conducted by competent authorities."
U.S. Secretary of State Antony Blinken stated last month that officials made a "substantial" offer for a deal to free Griner and Whelan.
He has not, however, confirmed media reports that Washington offered to swap Viktor Bout, a Russian arms dealer who is currently serving a 25-year prison sentence in the United States.
The State Department asserts that both Griner and Whelan were detained wrongfully, and President Joe Biden has spoken to the families of both Americans about their situation.
Advertisement - story continues below
The president reportedly assured their families that the administration is doing everything possible to secure their release.
As IJR previously reported, a Russian court convicted Griner of drug possession and drug smuggling as well as levying a fine of 1 million rubles, or about $16,400, against the basketball player.
President Joe Biden spoke out against the Russian court's decision to sentence Griner to nine years in prison.
Fox News reported that Biden made a statement about the sentence saying, "American citizen Brittney Griner received a prison sentence that is one more reminder of what the world already knew: Russia is wrongfully detaining Brittney."
"It's unacceptable, and I call on Russia to release her immediately so she can be with her wife, loved ones, friends, and teammates.  My administration will continue to work tirelessly and pursue every possible avenue to bring Brittney and Paul Whelan home safely as soon as possible."
Advertisement - story continues below
Whelan, 52, is a former Marine and a security expert who was detained in 2018 and found guilty of espionage in 2020 and is currently serving a 16-year prison term. The veteran has maintained that he was set up.
Truth and Accuracy
We are committed to truth and accuracy in all of our journalism. Read our editorial standards.
Comment Down Below
Conversation