Schiff Says Trump and GOP Have 'Left Us Where We Are' Amid Coronavirus Outbreak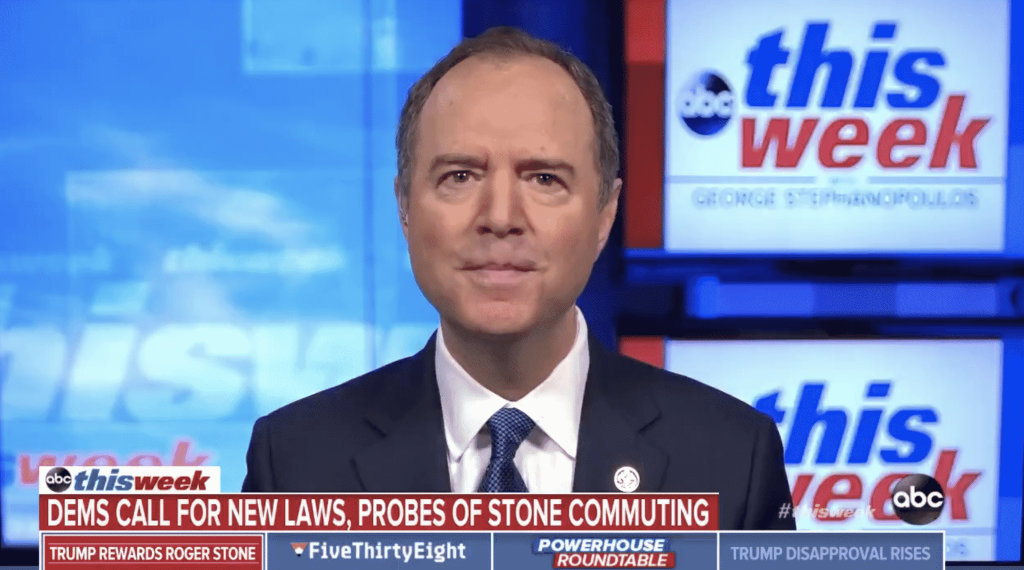 House Intelligence Committee Chairman Adam Schiff (D-Calif.) is attributing the nation's struggle to combat the coronavirus to President Donald Trump and Republicans lawmakers.
Host of ABC's "This Week" George Stephanopoulos noted there is discussion about another possible coronavirus relief package and asked Schiff if he is confident they will be able to get something accomplished before the House goes on recess, and what more needs to be done to get the outbreak under control.
Schiff expressed his fear Republicans will not act and explained the situation the nation is in could have been prevented.
"I'm concerned that the Republicans in Congress will not rise to the challenge of this virus and we will have more economic suffering and more death than necessary," Schiff said.
He added, "It didn't have to be this way, but both the combination of the president's incompetent response and the Republican unwillingness to step up to the plate and provide the resources for a fulsome answer to that virus has left us where we are."
Check out his comments below:
Rep. Adam Schiff says if GOP won't act on next stimulus package, "we will have more economic suffering and more death than necessary," adding, that Trump's "incompetent response" and GOP's "unwillingness" to provide resources, "has left us where we are." https://t.co/WoVPlseS1L pic.twitter.com/orCZZW90Mp

— This Week (@ThisWeekABC) July 12, 2020
Schiff argued the nation needs to ramp up testing and tracing.
According to Schiff, if Republicans do not act, unemployment compensation in terms of the federal extended benefits could be cut off, and funding to small businesses could also face cuts.
He went on to explain his belief Republicans will ultimately not do enough.
"Will they continue in the face of such misery and disease and death refuse to act? I certainly hope not. I think they will be compelled to but I think they're going to do far too little given the economic circumstances and given this dire health threat to the American people," Schiff said.
The United States continues to see an uptick in the number of coronavirus cases.
As of Sunday evening, there are more than 3.2 million coronavirus cases and over 135,000 deaths.