News
Schumer Says Pelosi 'Had No Choice' but To Reject McCarthy's Jan. 6 Committee Picks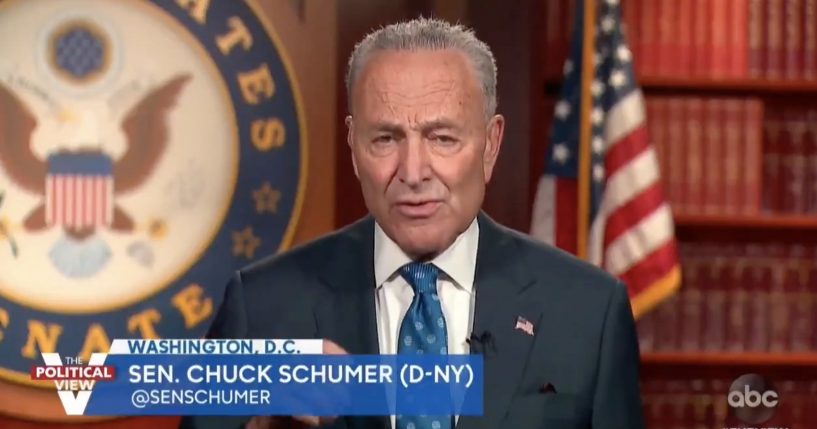 Senate Majority Leader Chuck Schumer (D-N.Y.) weighed in on House Speaker Nancy Pelosi's (D-Calif.) rejection of two Republicans for a select committee investigating the January 6 riot at the U.S. Capitol.
During a Thursday appearance on "The View," host Sunny Hostin asked Schumer what he thinks about Pelosi's "unprecedented decision."
Schumer replied, "She had no choice."
Advertisement - story continues below
He called the January 6 riot one of the most "serious, terrible things that's happened in our Capitol, in our whole history."
Schumer argued there should have been a 9/11-style commission, noting, "Leader McConnell blocked that here in the Senate. He would not let that come forward."
He added, "So Speaker Pelosi had no choice but to move on her own, as she did, and she put together a commission."
Watch the video below:
Advertisement - story continues below
Senate Majority Leader Chuck Schumer tells @TheView that Speaker Nancy Pelosi had "no choice" but to veto two recommendations from House Minority Leader Kevin McCarthy for Republicans to serve on select commission investigating Jan. 6. https://t.co/s9zmDW8eUj pic.twitter.com/iHAFocS2Ou

— ABC News Politics (@ABCPolitics) July 22, 2021
Touching on House Minority Leader Kevin McCarthy's (R-Calif.) picks, Schumer said he could not believe he selected "two people … who sort of supported the big lie that did all of this."
Did Pelosi have a choice?
He continued, "She was right not to let them stay on the commission."
During a press conference on Thursday, Pelosi doubled down on her decision, as IJR reported.
She said Reps. Jim Jordan (R-Ohio) and Jim Banks (R-Ind.) made statements and took actions "that I think would impact the integrity of the committee."
Advertisement - story continues below
Pelosi added, "It's my responsibility as speaker of the House to make sure we get to the truth on this. We will not let their antics stand in the way of that."
The House minority leader responded to Pelosi's rejection by pulling all five of his picks.
McCarthy announced on Wednesday, "We will run our own investigation. We have law enforcement, we have military, we have doctors, we have people from all walks of life."
He also said Americans "deserve" to know the answer, suggesting, "They don't deserve politics. They don't deserve destroying the institution."
Truth and Accuracy
We are committed to truth and accuracy in all of our journalism. Read our editorial standards.
Comment Down Below
Conversation