News
Schumer Remark About Kavanaugh Does Not Age Well After Justice Was Threatened Near Home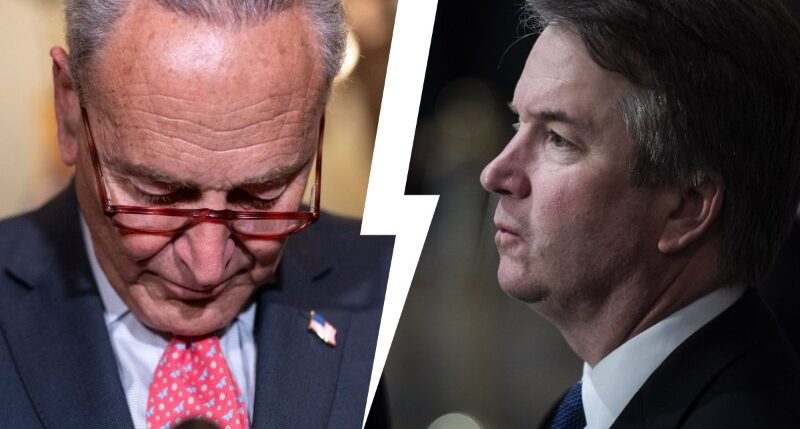 A comment made by Senate Majority Leader Chuck Schumer (D-N.Y.) aged poorly after a Supreme Court justice was threatened.
"I want to tell you, Gorsuch. I want to tell you Kavanaugh: You have released the whirlwind, and you will pay the price," Schumer said in March 2020 as the justices were hearing arguments in a Louisiana abortion case.
He added, "You won't know what hit you if you go forward with these awful decisions."
Advertisement - story continues below
In case you missed it:
FLASHBACK: Senator Chuck Schumer stood on the steps of the Supreme Court and threatened Justices if they didn't rule the way he wanted in a case: pic.twitter.com/fXqjNKjqyN

— Senate Republican Communications Center (@SRCC) March 21, 2022
The remark resurfaced after it was reported that a man was arrested for allegedly making threats against Supreme Court Justice Brett Kavanaugh.
The Washington Post reported a California man "carrying at least one weapon near Brett M. Kavanaugh's Maryland home has been taken into custody by police after telling officers he wanted to kill the Supreme Court justice, according to people familiar with the investigation."
Advertisement - story continues below
According to the outlet, the man "was found to be carrying at least one weapon and burglary tools, these people said, speaking on the condition of anonymity to discuss an ongoing investigation."
Patricia McCabe, a spokeswoman for the court, explained, "The man was armed and made threats against Justice Kavanaugh."
She added, "He was transported to Montgomery County Police 2nd District."
The initial evidence reportedly indicates the man was angry about the leaked draft opinion showing the court would overturn Roe v. Wade.
Schumer previously received criticism for his remark from Chief Justice John Roberts.
Advertisement - story continues below
He called Schumer's comment "inappropriate" and "dangerous."
Anddddd another one that didn't age too well https://t.co/8jzQEbvEtX

— Daily Wire (@realDailyWire) June 8, 2022
Roberts said, "All members of the court will continue to do their job, without fear or favor, from whatever quarter."
Schumer spokesman Justin Goodman attempted to clarify the remark.
Advertisement - story continues below
Goodman claimed the words were "a reference to the political price Senate Republicans will pay for putting these justices on the court, and a warning that the justices will unleash a major grass-roots movement on the issue of reproductive rights against the decision."
Truth and Accuracy
We are committed to truth and accuracy in all of our journalism. Read our editorial standards.
Comment Down Below
Conversation