US Secret Service Agents Reportedly Contracted COVID-19 Ahead of Pence's Arizona Visit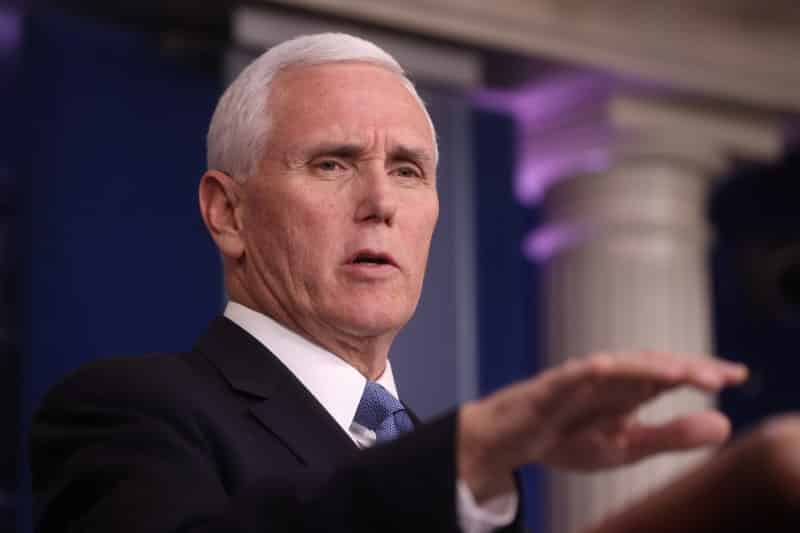 Vice President Mike Pence's trip this week was delayed after multiple U.S. Secret Service agents showed signs of COVID-19, according to reports.
Pence's trip was delayed a day to Arizona, where he ended up traveling on July 1 instead of June 30. According to reports, Secret Service agents who helped to plan the trip "either tested positive for the coronavirus or were showing symptoms of being infected."
There was at least one agent who reportedly tested positive for coronavirus while others were showing symptoms of the virus. And, as The Washington Post notes from an official, roughly eight to 10 agents and officers were showing symptoms of the illness.
Two anonymous senior officials said that the delay was so that there could be healthy agents on the trip.
Pence's spokesman Devin O'Malley told the Post:
"Instead of highlighting Vice President Pence's concerted effort with Task Force members to visit and support states with new cases, The Washington Post is choosing to use its pages to report on a story of little use to every day Americans attempting to learn more about how coronavirus affects them or the Administration's response efforts."
During Pence's trip to Arizona on Wednesday, he told Arizona Gov. Doug Ducey (R), "We're here to help."
"We're here to help," VP Pence tells Arizona Gov Ducey at start of talks about responding to the surge in Coronavirus cases in the state. "I know it's a very challenging time," says Pence, but we're here "to make sure you have what you need, when you need it" pic.twitter.com/PlyUShgq13

— Mark Knoller (@markknoller) July 1, 2020
Pence's trip to the state came as Arizona saw a single-day high in coronavirus cases and deaths due to the virus this week.
The state has become one of the new epicenters of coronavirus in the U.S. There are more than 87,000 confirmed cases in the state, as of Friday morning.
With 1,052 new cases on June 15, the state saw an increase to 4,797 new cases on June 30. On July 2, there were 3,343 new cases, according to The New York Times statistics.
Overall, the U.S. has 2,837,681 confirmed coronavirus cases, with 131,503 deaths due to the virus and 1,191,838 reported recoveries, as of Friday morning.