Senate Dems Pen Letter Demanding Trump Hand Over Daily Intelligence Briefings on Russian Bounties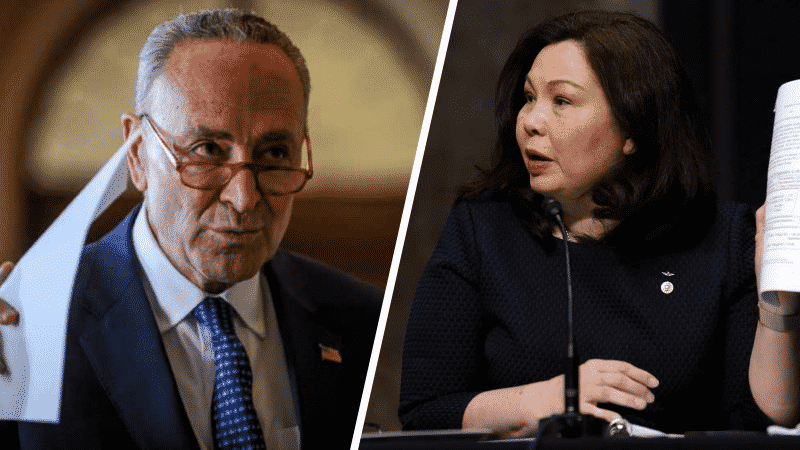 Senate Minority Leader Chuck Schumer (D-N.Y.) and Sen. Tammy Duckworth (D-Ill.) are leading the charge in calling on President Donald Trump to grant them access to daily intelligence briefings discussing reports suggesting Russia paid Taliban-linked militants to assassinate U.S. troops.
In a letter sent to Trump, signed by Sen. Bernie Sanders (I-Vt.), Sen. Amy Klobuchar (D-Minn.), Sen. Kamala Harris (D-Calif.), Sen. Cory Booker (D-N.J.), and others, the lawmakers suggested access to these briefings could provide more information on why Trump did not respond.
The Democrats alleged Trump offered Russia leniency on his Twitter account and the group reiterated national security should be a top priority.
"In fact, you appeared to offer aid and sympathy to Russia by writing on Twitter on June 29, 2020: 'Intel just reported to me that they did not find this info credible, and therefore did not report it to me or @VP. Possibly another fabricated Russia Hoax, maybe by the Fake News @nytimesbooks, wanting to make Republicans look bad!!!'" the group wrote.
They added, "There can be no higher national security priority than the protection of our Armed Forces abroad, and the people's representatives in Congress need to know what is going on here."
The letter requests the documents be handed over by July 17.
During her press briefing on June 30, White House Press Secretary Kayleigh McEnany disclosed the president had officially been briefed on the reported Russian bounties, as IJR previously reported.
The administration previously claimed Trump had not been initially briefed on the intelligence.
National Security Adviser Robert O'Brien argued Trump was not briefed because the reports were "uncorroborated," as IJR previously reported.
Rep. Michael McCaul (R-Texas), the top Republican on the Foreign Affairs Committee, later said Trump "did deserve" to know about the intelligence.
Trump's response to the intelligence also drew criticism from Democratic presidential nominee Joe Biden and backlash from House Speaker Nancy Pelosi (D-Calif.).