News
GOP Senator Rips Biden's 'Timidity' After Fighter Jet 'Fiasco' Amid Russia's Invasion of Ukraine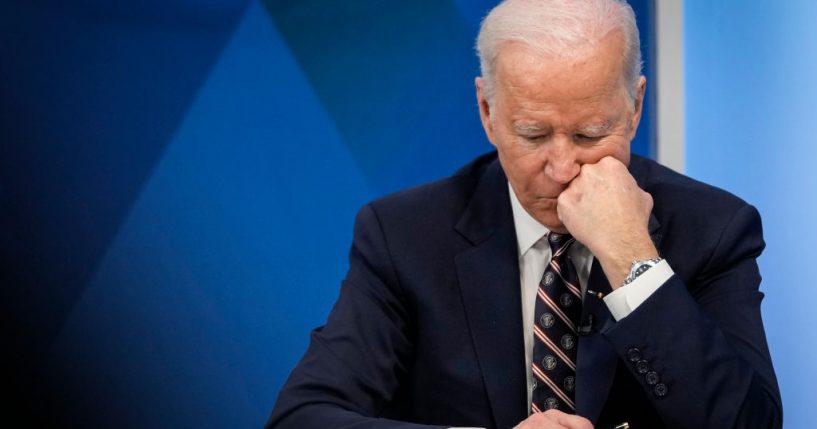 A Republican senator is torching President Joe Biden for shooting down a plan to give Ukraine MiG-29 fighter jets to prevent Russia from gaining air supremacy.
In an op-ed published by Fox News on Tuesday, Sen. Tom Cotton (R-Ark.) began by noting that Ukrainians are "locked in a desperate struggle against Russian invaders" and argued, "Their courage in the face of Russia's brutal onslaught stands in stark contrast to the weakness in the White House."
He wrote:
Advertisement - story continues below
"While President Volodymyr Zelenskyy has rallied his people to defend their homeland, President Biden has responded with timidity and half-measures."
The senator explained that Ukraine is "in dire need of aircraft and spare parts to prevent Russia from gaining air supremacy, but the president refused to give the Ukrainians these valuable tools when they were practically handed to him by one of our strongest allies, Poland."
Poland came up with a plan to provide Ukraine with MiG-29 fighter jets and have the U.S. deliver them. And Secretary of State Antony Blinken told CBS' "Face The Nation" earlier this month that NATO countries have a "green light" to deliver tighter jets to Ukraine.
"But then, Biden balked. He scuttled the deal and sent his flacks running to the press to claim Poland's plan was a complete surprise. Instead of presenting a united front with Poland, the Biden administration telegraphed indecision and incompetence," Cotton wrote.
Advertisement - story continues below
He noted that administration officials raised concerns that if the U.S. delivered fighter jets to Ukraine, it might provoke Russian President Vladimir Putin. However, he pointed out that the U.S. has been sending weapons to Ukraine already and argued that jets are "no more provocative" than those weapons.
Cotton said:
Do you think the U.S. should have shut down Poland's offer?
"Giving the Ukrainians more fighters won't drag America into war; it will just make Ukraine more likely to win the war by keeping its air force in the fight. Biden's fighter fiasco is only the latest example of his timidity in the face of Russian aggression."
He went on to recount Biden's decision to hold a "glitzy summit" with Putin last year after Russia built up forces near Ukraine's border in April. Additionally, Cotton recalled Biden's "minor incursion" remark before the invasion and said the president had to be "dragged into sanctioning Russian oil and gas."
The senator went on:
Advertisement - story continues below
"When Putin made nuclear threats, Biden caved by canceling a routine missile test, even though the U.S. notified the Russians about the test months ago. He has even refused to give the Ukrainians real-time intelligence about the Russian invasion force, again out of misplaced fear of 'escalation.' But if information is too provocative to send, what can we send?"
Finally, Cotton claimed, "At every step, Joe Biden has allowed America's response to be dictated from Moscow out of a fanciful fear of provocation. The wages of Biden's weakness are Russian tanks rolling through Eastern Europe."
"If we fail to support Ukraine, the stakes and the flames of war will rise," he added.
Truth and Accuracy
We are committed to truth and accuracy in all of our journalism. Read our editorial standards.
Comment Down Below
Conversation