News
Senior Aide To Trump Argues No President 'Has Been Dealt a Better Hand' Than Biden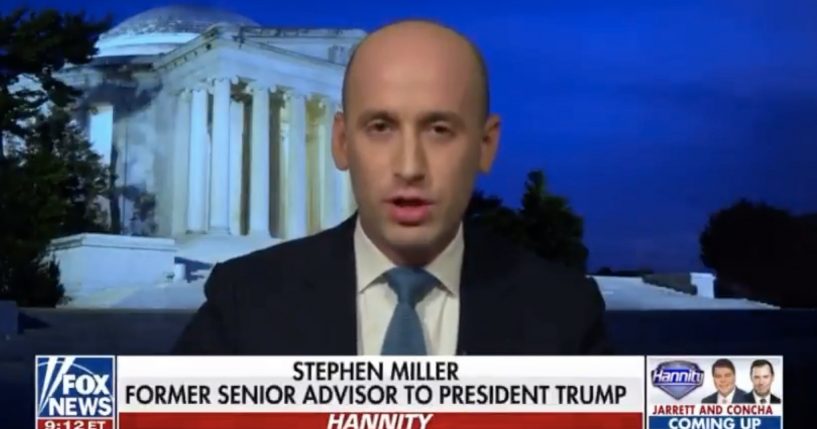 Stephen Miller, a senior aide to former President Donald Trump, claims President Joe Biden has been dealt a "better hand" than any president in history.
"No president in history has been dealt a better hand on day one than President Biden," Miller said during an interview with Fox News's Sean Hannity on Thursday.
He added, "Think about what President Trump left him and what it's become."
Advertisement - story continues below
Check out part of the interview below:
Stephen Miller: No President in history has been dealt a better hand on day one than President Biden. pic.twitter.com/0gcSY26oZ8

— Acyn (@Acyn) July 9, 2021
Miller criticized Biden for the situation at the southern border, the economy, and more.
"And what do we have? You have cities out of control with crime. We have open borders. We have the Middle East in tatters. We have Afghanistan falling to pieces. We have an economy with massive inflation, runaway spending, and we have jobs that should be filled that cannot be filled," Miller said.
Advertisement - story continues below
He continued, "We have unwise fiscal stimulus policy that's keeping workers out of the workforce."
Calling it a disaster, Miller added, "It's leading to an era of malaise, suffering, and economic stagnation. Low wages, high unemployment, and massive crime coming across our border and staying in our cities."
Was Biden dealt "a better hand"?
The Biden White House blamed the Trump administration for the increased number of migrants encountered at the southern border.
During a press briefing in March, White House Press Secretary Jen Psaki said, "The situation on the ground is certainly challenging in part because we inherited a dismantled system that wasn't prepared for processing asylum requests that had left in place."
House Speaker Nancy Pelosi (D-Calif.) made similar comments about the situation at the border.
Advertisement - story continues below
She told ABC News in March, "What the administration has inherited is a broken system at the border, and they are working to correct that in the children's interest."
During Biden's joint address to Congress in April, he claimed he inherited a nation "that was in crisis" amid the COVID-19 pandemic.
He said, "Now after just 100 days, I can report to the nation: America is on the move again."
Truth and Accuracy
We are committed to truth and accuracy in all of our journalism. Read our editorial standards.
Conversation