News
'They Lied To Us': Seth Rogen Criticizes Emmy Awards for Inadequate COVID-19 Restrictions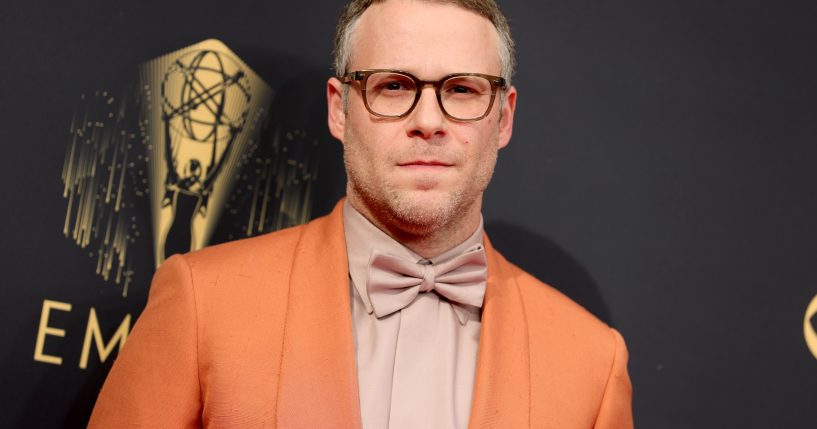 Actor Seth Rogen took a swipe at the Emmy Awards over COVID-19 restrictions, claiming "they lied to us."
"Good to be here at the Emmy Awards. Let me start by saying there is way too many of us in this little room. What are we doing? They said this was outdoors. It's not. They lied to us. We're in a hermetically sealed tent right now. I would not have come to this," Rogen said while presenting the first award during the show on Sunday.
He continued, "Why is there a roof? It's more important that we have three chandeliers than that we make sure we don't kill Eugene Levy tonight."
Advertisement - story continues below
Watch the video below:
That moment when Seth Rogen is more concerned about Covid safety, his fellow actors' lives and sending the right message to CBS's aging viewers than @CBS itself. #Emmys pic.twitter.com/EB7MHEDEPq

— Richard Hine (@richardhine) September 20, 2021
According to the website for the awards, the venue for the event was a "flexible environment, inside a fully air-conditioned tent" allowing "for more socially-distanced audience seating."
The statement continued, "In addition to proof of full vaccination with either an FDA- or WHO-authorized vaccine, attendees at all four shows will be required to provide proof of a negative RT-PCR COVID test prior to admission to all Emmy ceremonies."
Advertisement - story continues below
The host of Sunday's show, Cedric the Entertainer, weighed in on Rogen's comments.
"It actually feels amazing in here unlike what Seth was talking about. It feels good. We're all vaxxed. We had to get vaxxed to come here. I got vaxxed," he said.
Were their restrictions inadequate?
The host also commented on singer Nicki Minaj's recent comments about getting the vaccine.
"I did not have a reaction like Nicki Minaj's cousin's friend. I got Pfizer because I'm bougie. Pfizer is the Neiman Marcus of vaccines. Moderna, that's Macy's. Johnson & Johnson, that's TJ Maxx," he added.
Minaj tweeted last week, "They want you to get vaccinated for the Met. if I get vaccinated it won't for the Met. It'll be once I feel I've done enough research. I'm working on that now. In the meantime my loves, be safe. Wear the mask with 2 strings that grips your head and face. Not that loose one."
Advertisement - story continues below
She added, "My cousin in Trinidad won't get the vaccine cuz his friend got it and became impotent. His testicles became swollen. His friend was weeks away from getting married, now the girl called off the wedding. So just pray on it and make sure you're comfortable with ur decision, not bullied."
Truth and Accuracy
We are committed to truth and accuracy in all of our journalism. Read our editorial standards.
Conversation