News
Simone Biles: 'I Should Have Never Made Another Olympic Team'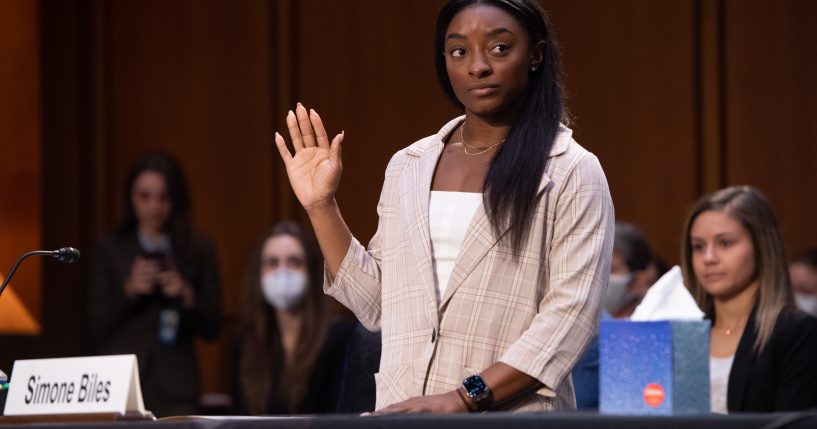 Olympic gymnast Simone Biles is opening up about her experience coping with the abuse she suffered under USA Gymnastics doctor Larry Nassar.
During an interview with New York Magazine's The Cut, Biles shared her approach to the the 2021 Olympic games in Tokyo.
"If you looked at everything I've gone through for the past seven years, I should have never made another Olympic team," Biles said.
Advertisement - story continues below
She added, "I should have quit way before Tokyo, when Larry Nassar was in the media for two years. It was too much. But I was not going to let him take something I've worked for since I was 6 years old. I wasn't going to let him take that joy away from me. So I pushed past that for as long as my mind and my body would let me."
Describing her arrival in Tokyo, Biles explained, "Leading up to it, I got more and more nervous. I didn't feel as confident as I should have been with as much training as we had."
According to the outlet, Biles experienced the "twisties," a condition where the mind of an athlete and body fail to connect and muscle memory is unable to kick in.
"It's so dangerous," Biles explains. "It's basically life or death. It's a miracle I landed on my feet. If that was any other person, they would have gone out on a stretcher. As soon as I landed that vault, I went and told my coach: 'I cannot continue.'"
Advertisement - story continues below
The Olympic gymnast told the outlet she is back in therapy, adding, "This will probably be something I work through for 20 years."
She continued, "No matter how much I try to forget. It's a work in progress."
Earlier this month, Biles appeared before the Senate Judiciary Committee to testify about the abuse she suffered under Nassar, as IJR reported.
"I don't want another young gymnast, Olympic athlete, or any individual to experience the horror that I and hundreds of others have endured before, during, and continuing to this day," Biles said.
She added, "To be clear, I blame Larry Nassar, and I also blame an entire system that enabled and perpetrated his abuse."
Truth and Accuracy
We are committed to truth and accuracy in all of our journalism. Read our editorial standards.
Conversation