News
'Squad' Member to Deliver Speech Following Biden's State of the Union Address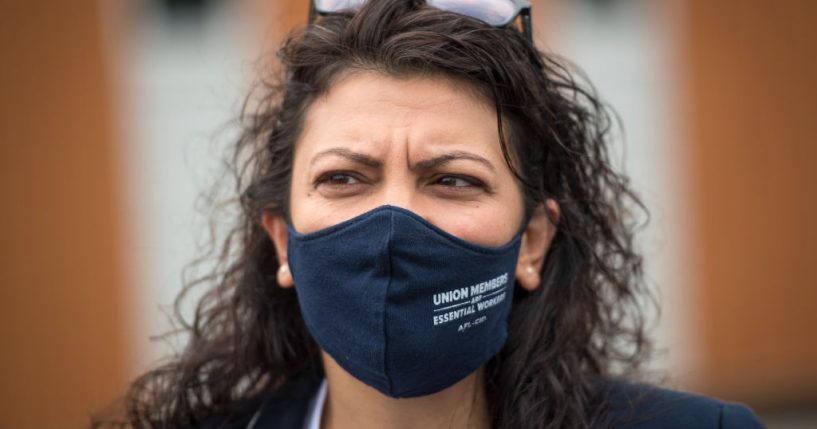 Rep. Rashida Tlaib (D-Mich.), a "Squad" member, will deliver a speech following President Joe Biden's upcoming State of the Union address, according to Politico.
The outlet reported that Tlaib will give a speech on behalf of the left-wing group Working Families Party. She is expected to criticize moderate Democrats for blocking Biden's spending package.
Sens. Joe Manchin (D-W.Va.) and Kyrsten Sinema (D-Ariz.) will likely be targets of Tlaib's speech, as Politico noted.
Advertisement - story continues below
According to a summary of her speech shared with the outlet, Tlaib will "praise Biden's stimulus bill and make the case that liberals have pushed aggressively for his agenda."
Additionally, Tlaib will call out Republicans and some Democrats for blocking progress on lowering the cost of housing, health care and prescription drugs, as Politico reported.
Tlaib told the outlet in a statement, "No one fought harder for Build Back Better and a pro-democracy agenda than progressives."
She added, "The work is unfinished and we're not giving up on what our communities deserve. We need to get as much done for the people as we can this year, and elect a majority that can deliver for working families in 2023."
Advertisement - story continues below
Maurice Mitchell, national director of the Working Families Party, suggested Biden's agenda is "incomplete."
He explained, "We're going to be clear about who and why the agenda is incomplete. There are particular political actors — of course Republicans, but then a very niche, small group of obstructionist Democrats. And we're going to name names."
Will you watch her speech?
The summary of her speech also shows Tlaib is expected to call on Biden to cancel student loan debt. The Working Families Party's Facebook page will livestream her remarks.
All 535 members of the House and Senate have been invited to Biden's March 1 State of the Union Address.
Truth and Accuracy
We are committed to truth and accuracy in all of our journalism. Read our editorial standards.
Comment Down Below
Conversation