Stacey Abrams Suggests 'Republicans Do Not Know How to Win Without Voter Suppression'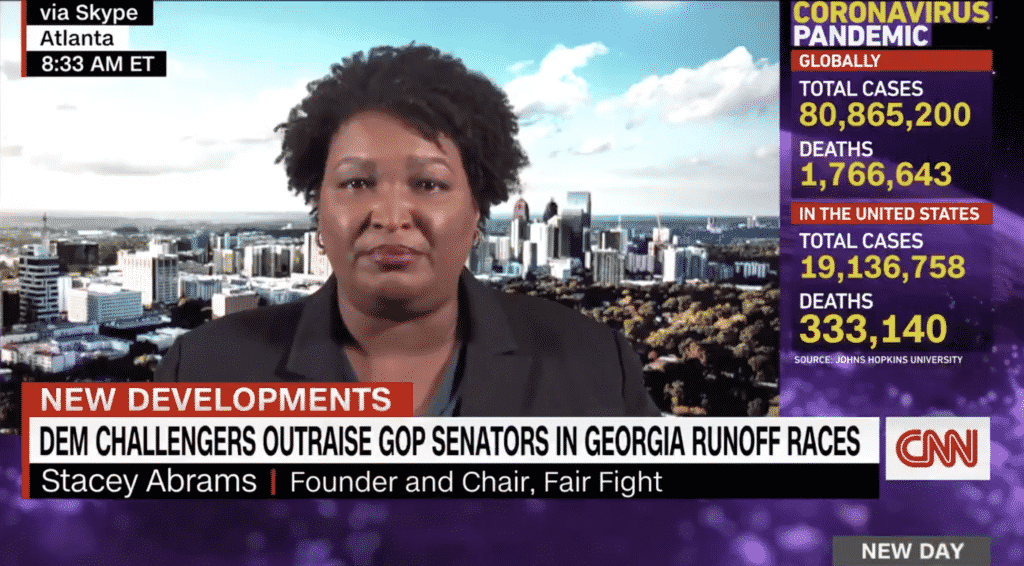 Former Democratic Georgia gubernatorial candidate Stacey Abrams is responding to Republican efforts to create voting restrictions and overturn voter expansion measures.
During her appearance on CNN on Monday, Abrams was asked if she sees these behaviors "ticking up again" and what she plans to do about it.
"We're going to do what we've been doing, which is we are going to work to mitigate voter suppression," Abrams said.
She argued when voter suppression was "put on its heels" through the work of organizations, there were a record number of Americans who showed up to vote in Michigan, Wisconsin, Pennsylvania, Arizona, and Georgia.
"When we create access to the right to vote for eligible citizens, more people participate and Republicans do not know how to win without voter suppression as one of their tools," Abrams said.
She added, "That's why we see True the Vote down here in Georgia challenging 364,000 voters… eight days before the election because voter suppression is their modus operandi. We as voters, as Americans, have to stand up to our state legislatures and say that the right to vote is sacred, it belongs to all of us."
Watch her comments below:
"Republicans do not know how to win without voter suppression as one of their tools," Stacey Abrams reacts to Republicans around the country looking into backtracking voter expansion measures. pic.twitter.com/bsEcgExdMs

— New Day (@NewDay) December 28, 2020
Abrams was praised for helping President-elect Joe Biden win the state of Georgia, as IJR previously reported.
The last time Georgia backed a Democratic president was in 1992. 
Forbes Magazine listed Abrams among the "most powerful women" of 2020 for her work to help register around 800,000 Georgia voters, as IJR previously reported.
Georgia's crucial Senate runoff election will be held on Jan. 5. 
President Donald Trump is expected to hold a rally in Dalton, Georgia for Sens. Kelly Loeffler and David Perdue the night before.