Stacey Abrams Argues There Is an 'Intentional Effort' to Undermine Vote by Mail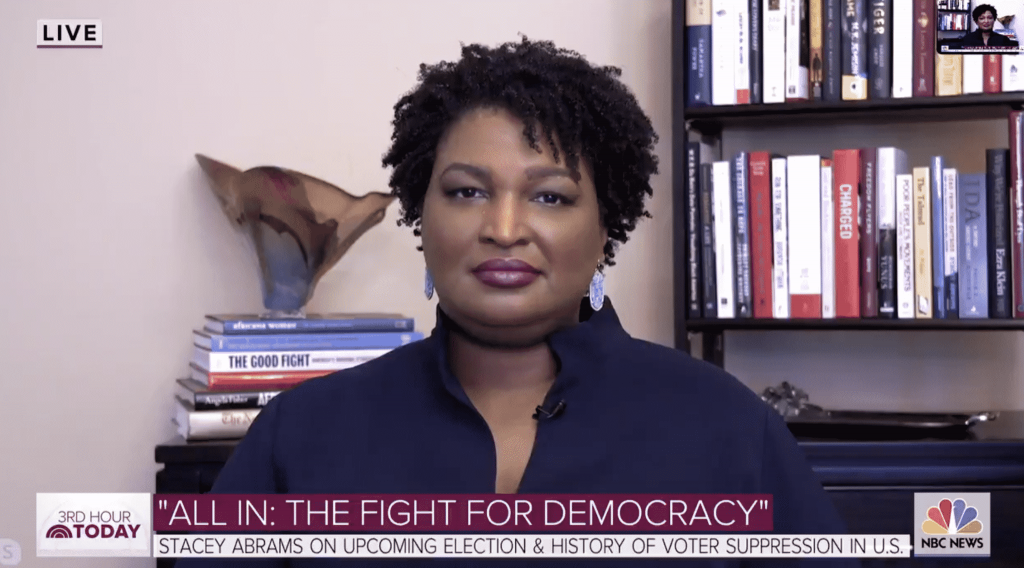 Former Democratic Georgia gubernatorial nominee Stacey Abrams is opening up about her experience working on "All In: The Fight for Democracy," a documentary focusing on the history of voter suppression in the U.S., and how there is an effort to dissuade Americans from using vote by mail.
When asked about cases of Americans voting twice, Abrams made it clear it is an example of how Republicans are launching their attacks on vote by mail.
Abrams told NBC's "TODAY" Thursday, "We know that this is part of a national effort by Republicans to dissuade voters from using vote by mail."
She added, "We know that the same story has popped up in Nevada and North Carolina and in Georgia, and there is an intentional effort around the country to undermine the utility of vote by mail."
Check out her remarks below:
.@SheinelleJones speaks with @staceyabrams about the new documentary #AllIn which takes a look at the history of voter suppression in the U.S. pic.twitter.com/fNsZlsO3W4

— 3rd Hour of TODAY (@3rdHourTODAY) September 10, 2020
Voting by mail is expected to rise during the November election as a result of the coronavirus pandemic.
Host Sheinelle Jones asked Abrams if she believes leaders across the federal, state and local levels are doing enough to ensure the votes of the American people are safe.
"On the local level, we have good people doing the best they can as election administrators, but they need help," Abrams said.
She continued, "Unfortunately, the lack of action on the HEROES Act to fully fund election protection and election administration is going to make it harder to count ballots quickly. It's going to make it harder to ensure that we have the kind of safety features that we need."
Abrams stressed there is no need to worry because the United States has held elections during the Spanish flu and the civil war and can still hold one amid the coronavirus pandemic.
She spoke to her experience working on the documentary and revealed it is about understanding "that while voter suppression is real and visceral and mean, it's not new."